Buratai Opens Military Base In Birnin Gwari, Give Soldiers 3 Weeks Ultimatum To Expose Criminals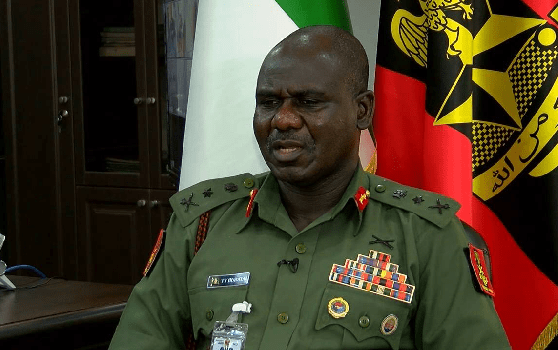 FG Fulfills Promise Of Establishing Army Base In Birnin Gwari
The Chief of Army Staff, Tukur Buratai, has flagged-off a two Battalion Forward Operation Base (FOB) at the troubled Birnin-Gwari area of Kaduna State, Nigeria on Monday.
The FOB was tagged Operation 'Idon Raini' at Kanfanin Doka village, the proposed site.
Addressing the soldiers during the flag off, Gen. Buratai charged them to expose the criminal master minds within three weeks.
"The killings must stop, the wanton destructions of properties must stop, not only within Kaduna state but across the country.
"In the next two, three weeks, there must be very resounding results that will bring these criminals to their knees finally, " he said.
Buratai also charged the army to go after the criminals in their hiding places and flush them out.
"So I don't know why you cannot go to where they are and get them fished out.
"I'm happy with the initiative of the General Officer Commanding 1 Division and all the commanders for the new approach and I want to see a decisive result at the end of this operation," he said.
The Emir of Birnin-Gwari, Zubairu Jibril Mai Gwari II, expressed full confidence in the army, stating he belives the army would record victory within a short period.
"These bandits cannot be contained by mounting of road block or staying on the road, so the security operatives have to take the fight to them in the bush otherwise they will continue to unleash mayhem," he said.
The Emir further appealed to the  Chief of Army Staff to return some special forces that came recently and performed wonderfully well in the forest around the troubled area.
"If you bring these boys back and even superior officers and personnel, I am sure you will finish them on time, because this is not Sambisa forest. And since the Chief of Army Staff is here, were are sure this thing will come to an end."
Naija News recalls that Birnin Gwari has been the target of armed banditry who unleashed killings and mayhem in the area, leading to the death of several residents and destruction of properties.