Buratai Reveals How Boko Haram Can Be Defeated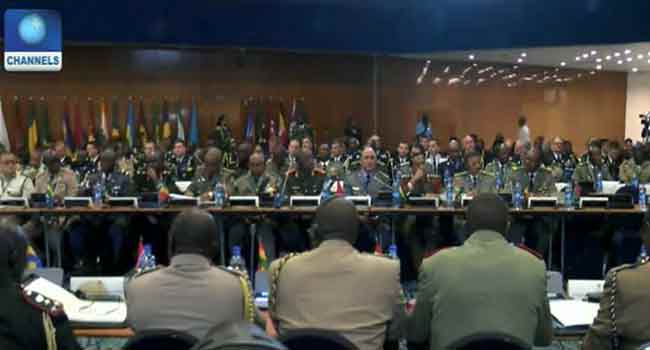 Combating Boko Haram Requires Collaborative Efforts – Buratai
Nigeria's Chief of Army Staff, Lieutenant General Tukur Buratai has reiterated the commitment of the Nigerian Army to collaborate with other African armies in the fight against Boko Haram and other terrorist group within African continent.
The Army Chief  who said this today at the African Land Forces Summit in Abuja also says that despite the successes recorded in the ongoing anti-insurgency war, collaborative efforts are essential to defeat the Boko Haram sect.
The conference which is co-hosted by the United States and Nigeria aims at boosting cooperation between countries fighting extremist groups.
Buratai added that with collaborative efforts, safety and stability in Africa and the world over can be achieved.
"Nigeria has recorded significant progress in taming the excesses of the Boko Haram terrorist group.
"It is my view that combating the menace of Boko Haram and other extremist organisations will require collaborative efforts, therefore, I want to emphasise that our collective action and inaction will have an impact on our efforts to ensure safety and stability to our individual countries, Africa and the world in general," he said.
The COAS added that despite the security challenges in Nigeria and Africa, the Nigerian Army is ready to take the lead role in combating these challenges and ensuring peace on the continent.
"Let me at this point reaffirm the Nigerian's Army unflinching to take lead roles in Africa and towards ensuring peace, security and sustainable development.
The African Land Summit is the Single largest gathering of the African Senior Military leaders and other Senior Army Chiefs from across the globe, especially within the African continent.
The Forum affords the African countries the avenue to share experiences on global terrorism and to forge a common approach to combating transnational threats and crimes such as violent extremism, organized terrorism, armed proliferation, among others.
The Summit also affords military leaders the opportunity to interact with the aim of strengthening existing relationships and developing new ones.
In attendance at the Abuja summit, are military leaders from almost every country on the continent including Angola, Cameroon, Egypt, Kenya and Rwanda.