Just In: Again, Bola Tinubu Meets Atiku Abubakar (Photos)
The National Leader of the ruling All Progressives Congress (APC), Bola Tinubu, has again met with Atiku Abubakar, the 2019 Presidential candidate of the Peoples Democratic Party (PDP), Nigeria's main opposition party.
Naija News reports that the heavyweight politicians met at the wedding Fatiha of Mahmud, the son of pioneer Chairman of the Economic and Financial Crimes Commission (EFCC), Nuhu Ribadu.
This online news platform understands that meeting was the second such public meeting in less than a month. It was learned that the duo embraced and chatted at the meeting.
Paul Ibe, Media Aide to Atiku, shared photos of the meeting between Tinubu and Atiku.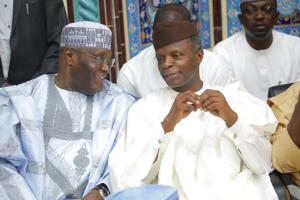 Naija News reports that other prominent personalities that were at the event include Vice President Yemi Osinbajo and Africa's richest man, Alhaji Aliko Dangote.
Mahmud married Aminatu, daughter of Ahmed Ismaila, former Permanent Secretary in the Ministry of Defence. The event held at the Al-Nur Mosque, Abuja, weekend.
The meeting between Atiku and Tinubu is coming at a time talks of the likelihood of the duo teaming up ahead of the 2023 presidential election in Nigeria.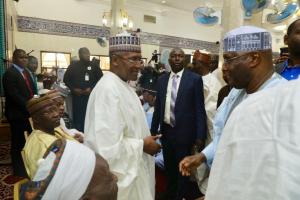 Before now, Atiku and Tinubu met at the Nnamdi Azikiwe International Airport in Abuja, Nigeria's capital on December 13, 2019, which further gave impetus to the rumours. Tinubu's office shared the photo of that encounter.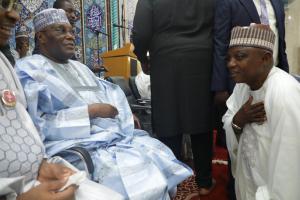 Source: Naija News