Antony: Two More Women Accuse Man United Star Of Assualt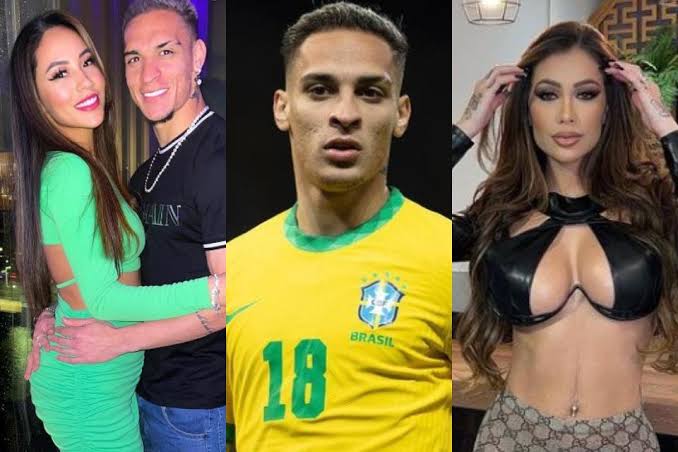 Manchester United winger, Antony seems to be in for more than anticipated, as two more women accused him of physical assault after his ex-girlfriend, Gabriela Cavallin, reported him to the police for the same offence.
Gabriela has been dragging Antony with physical assault allegations since July, but she took it a step further on September 3 when the Brazilian DJ and Instagram influencer sent evidence of the allegations to the police in England and Brazil.
She has also taken the scandal to another level by taking to social media to share evidence to back up her claims.
While Manchester United have said in a statement that they are "seriously" looking into the allegations, Antony and his legal representatives have insisted that all the allegations are false.
Amidst that, two more ladies have claimed that Antony, who joined Manchester United from Ajax for a transfer fee worth £85million in 2022, subjected them to physical abuse.
A law student named Rayssa de Freitas has already reported to the police in Brazil that Antony physically assaulted her. Also, Ingrid Lana, who is said to be a banker, has made the same claims in an interview with Brazilian outlets Jornal Extra and Record Report.
Rayssa's allegations against Antony
According to a police record from May 2022 by Rayssa, Anony allegedly assaulted Rayssa, who is also seen as a media personality, in the presence of Mallu Ohana.
After a night of drinking in So Paulo, Brazil, Rayssa claims that she and Mallu, Brazil footballer Dudu's ex-wife, got into Antony's Land Rover.
She claimed that Antony's hairdresser Rafa Contes, was also in the car.
The influencer allegedly told Brazilian police that Mallu and her fell out because Mallu wouldn't "continue the fun" with the other group members.
Rayssa claimed that once the argument turned violent, Mallu and Antony assaulted her.
She claimed that once Antony stopped at a stop sign, she unlocked the car's back door and ran away.
According to the police report, a motorcycle rider behind the Land Rover allegedly witnessed the alleged assault and noted Antony's license plate.
The biker reported that as soon as Rayssa exited the vehicle, Antony sped off in the direction of an unidentified location.
Media in Brazil reported that the law student was hospitalized after the incident.
Ingrid Lana's Allegations
As for Ingrid Lana, a 33-year-old banker, told Brazilian media outlet, Record, that Antony, 23, assaulted her physically in an interview that will be aired this Sunday.
Ingrid Lana, who described Antony's behaviour as "strange" said the incident happened in Antony's mansion in Manchester in October 2022.
She claimed, "He tried having [sexual] relations with me, but pushed me against a wall when I refused, and I hit my head."
She added, "I was there strictly for business. He invited me, and upon my arrival, I discovered he had second intentions. I was never anyone's mistress."
Antony's legal team reacts:
After the allegations from the two women went viral, Antony's legal team issued a statement via F5 media outlet, which reads: "The player Antony Matheus dos Santos has been the target of unfounded accusations made by his ex-girlfriend Gabriela Cavallin.
"Antony, through his defenders, has been closely following the police investigations within the scope of the ongoing inquiry at the 5th Police Station for the Defense of Women and trusts in the seriousness of the work of the police authority.
"The investigation is being carried out in judicial secrecy, with no further comments on its content.
"In respect for the principle of presumption of innocence, sober, impartial, cautious and professional treatment is expected from the media and the Civil Police, Public Prosecutor's Office, and the Judiciary Act with impartiality and with respect for the right to defence.
"Antony will remain at the disposal of the police authorities, trusting that, in the end, the truth will prevail with the recognition of his innocence."
Story continues below advertisement
As of the time of filling in this report, the police in Brazil and the city of Manchester are investigating the allegations slammed against Antony.
---
---
© 2023 Naija News, a division of Polance Media Inc.