I'm Not Influencing Sheikh Jassim's Man United Takeover – PSG's Al-Khelaifi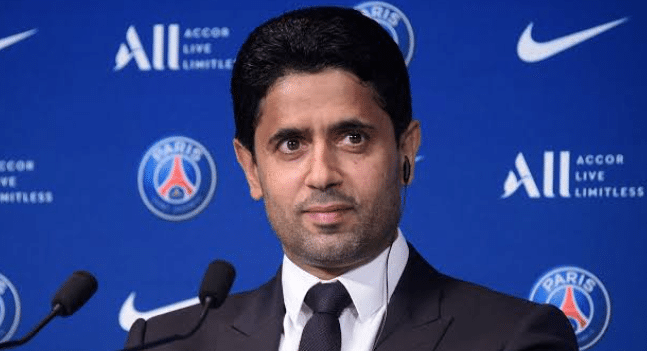 The president of Paris Saint-Germain, Nasser Al-Khelaifi, has debunked speculations that he is playing a role in the sale of Manchester United.
The Glazer family went to Al-Khelaifi a month ago to convince Qatari banker Sheikh Jassim bin Hamad Al Thani to increase his bid for United, according to BBC Sport.
In the alleged meeting between Al-Khelaifi and United owners, the Qatari businessman was reportedly urged to participate more actively in Sheikh Jassim's effort in buying the Premier League club.
Sheikh Jassim has frequently tried to dissociate himself from the Qatari government and has asserted that his bid for Manchester United was submitted in his name.
Contrary to claims that the PSG Chairman has been dragged into the ongoing transaction, Al-Khelaifi claimed that he has done nothing out of the ordinary and that his role is limited to PSG.
"Paris St-Germain is my club, in my heart, and I have nothing to do with Manchester United," Al-Khelaifi who is the chairman of the European Clubs' Association (ECA) told reporters after the association's meeting ahead of the 2023 UEFA Champions League final in Istanbul, Turkey.
He added, "It makes me laugh. I am Qatari, right? If people ask me my opinion, I will answer them for sure – and that's what they do.
"I am talking about anyone, not just Manchester United. I will give them the experience that I have. That's it."