Carlo Ancelotti Admits Spanish Football Has Racism Problem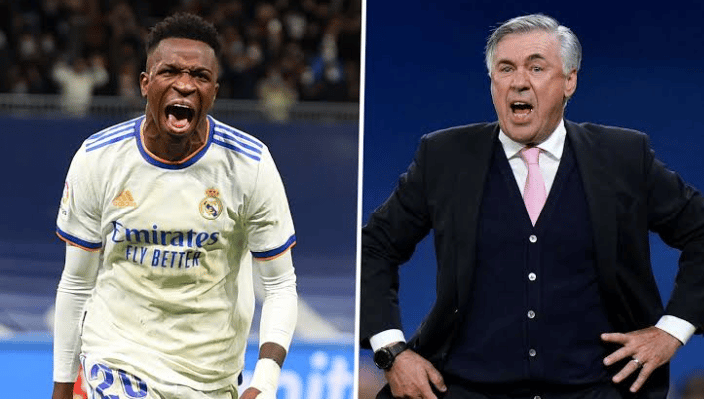 Real Madrid manager, Carlo Ancelotti has admitted that racism is a problem in Spanish football after having to protect his striker Vinicius Junior from the racial attacks he has suffered in recent weeks.
Vinicius allegedly received racial comments from a supporter during Sunday's 1-0 loss to Mallorca which is the most recent incident in a series of racial attacks targeted at the Brazilian.
Supporters of Atletico Madrid hung the effigy of the 22-year-old on a motorway overpass ahead of Real Madrid's Copa del Rey match against Atletico Madrid on January 26.
Even though La Liga have been saying that they are investigating the racial attacks on Vinicius, no one has been prosecuted yet and the racial attacks have persisted.
Hence, the 22-year-old Brazilian winger has stressed that La Liga are not doing anything to address racism in the league.
While reacting to Vinicius' claims, the president of the league, Javier Tebas, described the player's claims as "unfair and inaccurate".
But ahead of Wednesday's Club World Cup semi-final against Egyptian side Al Ahly, Real Madrid coach Carlo Ancelotti admitted that racism is a problem in Spanish football as a whole.
He said: "The question I ask is this: What is the problem?
"Vinicius? Vinicius' teammates? What's the problem? To defend himself? What does Vinicius have to defend himself against? What do his teammates have to defend themselves against? I don't know.
"It seems like the problem is Vinicius, but the problem is what happens around him. Period.
"It is a problem of Spanish football. I am a part of Spanish football and I think it's a problem that we have to solve. Because it seems that Vinicius is the culprit, but he is the victim of something that I don't understand."