APC Primary: Only Two Aspirants Are Remaining In The Race – Sen. Gaya Reveals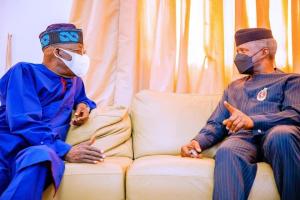 A high ranking member of the ruling All Progressives Congress (APC), Senator Kabiru Gaya from Kano has disclosed that the list of presidential aspirants in the party has been reduced to two.
He made this known on Tuesday ahead of the commencement of voting by delegates at the APC presidential primary holding at the Eagle Square in Abuja.
Speaking during an interview with Channels TV at the primary ground, Gaya revealed the names of the two aspirants remaining in the race for the APC ticket as Vice President Yemi Osinbajo and Asiwaju Bola Tinubu.
Naija News recalls both aspirants are also part of the five-man list confirmed to have been submitted earlier by Plateau State Governor, Simon Lalong.
Gaya during the interview added that the plan by the party is to have a candidate from the southwest and a running mate from the north.
Gaya said: "Well, we are still at the process. We know during conventions like this, decision are taken at the last minute and when done at the last minute, people accept that decision.
"Yes, we are trying to trim down. All that we know is that the candidate at the presidency should go to the south. And as it is now, it is going to the south, so that we can have a northern vice-president.
"If we don't agree on one person, atleast two or three persons will go to poll. The party wants the aspirants contesting to be reduced to two or even one.
"The two are Bola Ahmed Tinubu and Vice-president Yemi Osinbajo, so it comes down to the South West. The party would not simply say they've dropped a candidate.
"When the process begins, the candidate will mount the podium and tell us if they are stepping down, and who they are stepping down for."