Isa Funtua: Sowore Dares Presidency To Release Abba Kyari's Audio Tape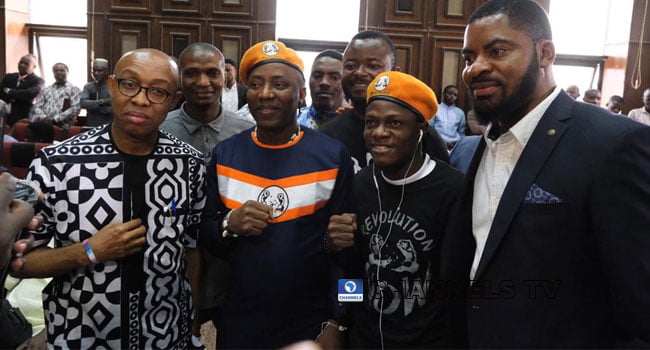 Omoyele Sowore, the publisher of Sahara Reporters, has asked the Senior Special Assistant to the President on Media and Publicity, Garba Shehu, to release an audiotape of the late Chief of Staff to President Muhammadu Buhari, Abba Kyari.
Naija News recalls that Garba Shehu had accused Sowore of attempting to twist the facts surrounding the visit of Isa Funtua and other persons to him while in custody.
Shehu also threatened that the Department of State Services (DSS) may be petitioned to make the tape of the visit public except Sowore desists from making untrue claims.
Recalls Isa Funtua, who died on Monday and other newspaper publishers had visited Sowore in 2019 while he was in prison custody where he was detained by the DSS for over four months.
Others on the team that visited Sowore were the Publisher of Vanguard, Sam Amuka-Pemu; and the Publisher of Thisday newspapers, Nduka Obaigbena.
After Funtua's death, Sowore alleged that Funtua and others who visited him in prison had told him to drop his 'revolution' protests and stop fighting the government as a condition for his release.
However, the Presidential media aide in a series of posts on Twitter on Tuesday has refuted claims that any such offer or demand was made to Sowore while in prison.
Reacting in a post on Facebook to Garba Shehu's threat, Sowore asked the presidential aide to also release a tape of Abba Kyari asking the DSS to detain him till 2023.
The Sahara Reporters publisher also explained that the trending interview on Funtua was not new but an old one which only began circulating after Funtua's demise on Monday.
Sowore wrote, "I urge you to release the tape, but don't forget to release tapes of conversations between COS Abba Kyari and DSS DG asking that my detention should last for the duration of the Buhari regime in 2023 because Sahara Reporters did a report that revealed that he collected N500m from MTN.
"Why can't you be honest for once in your life, when you came to meet me in detention what was your intention, what would have constituted the conditions for my release? Who would have ordered my release, Isa Funtua? What powers did Funtua have to get me released?
"My insistence then got Isa Funtua riled and he said that my lawyer was only grandstanding and that he too had been imprisoned by Buhari in 1983 and that no one can defeat the government. Your wicked self kept quiet but Nduka noticing I was upset took me to the DO's anteroom
"When I arrived downstairs I made a telephone call to my lawyer, Femi Falana, in the presence of the DSS officials telling him that I do not want to negotiate my freedom and that when he meets your team he should restate my position, he did exactly that, your team got upset again."