Ned Nwoko's Replacement, Peter Nwaoboshi To Face Probe By Presidential Panel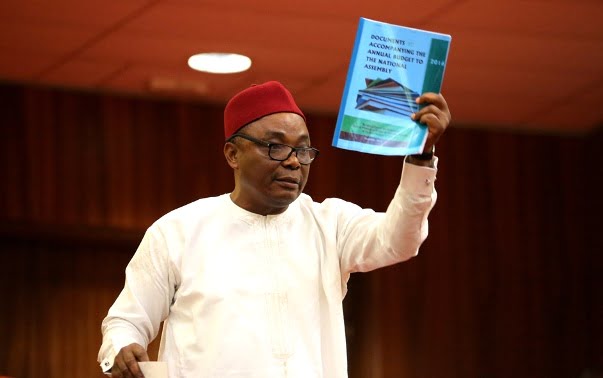 Peter Nwaoboshi (Peoples Democratic Party), recently declared Senator-elect of Delta North Constituency is wanted by the Presidential Panel investigating fraud cases.
Naija News understands that this is a turnaround for his colleague Regina Daniel's Ned Nwoko, whose victory was upturned in favor of Peter in the last judgment by the court of appeal on May 30, 2019.
The Special Presidential Investigation Panel (SPIP) for recovery of public property has forwarded the case file of Senator Peter Nwaoboshi (Delta North) to the Director of Public Prosecutions of the Federation (DPPF) for prosecution.
According to the panel, Nwaoboshi is being prosecuted over his alleged failure to declare his assets when he was given an asset declaration form to fill during his interrogation by the panel.
The Senator was alleged to have corruptly enriched himself and abused his position as Chairman of Senate Committee of Niger Delta Development Commission (NDCC) through the award of multi-billion naira contracts to companies linked to him but failed to execute the projects.
In a letter accompanying the case file, the SPIP said it forwarded the case to the DPPF for further handling in furtherance of the inter-agency and collaborative efforts of Federal Government's agencies involved in the anti-corruption war.
The letter signed by Dr. Celcius Ukpong, reads: "I am directed to forward to you above named case file for further action.
"The above suspect is under investigation before us for possession of suspicious assets far and beyond his legitimate earnings.
"He has refused to declare his assets before the panel after lawful demand by the special presidential investigation panel.
"This refusal is contrary to and punishable under section 3(i)(a) of the Recovery of Public Property (Special Provisions) Act 2004.
"It shall be appreciated if a charge is brought against him for this offense pending the conclusion of the investigation.
"We hereby attach a draft charge against him, for your perusal and further action, please."
Following the irregularities that witnessed the last general election, there was a battle to determine the authentic Senator-elect to represent Delta North senatorial district at the 9th Senate.
Ned Nwoko had been declared winner of the Senatorial election in the last general elections by a high court but the court of appeal in its ruling on Thursday, May 30 sacked him as the PDP senatorial elect noting that the case instituted at the Abuja Division of the Federal High Court which resulted in the recognition of Mr Nwoko as the winner of the election by the Independent National Electoral Commission (INEC), Nigeria's electoral umpire, was wrongly filed.
The Appeal court, therefore, declared his colleague Peter Nwaoboshi as the senator-elect in his place.
Meanwhile, Naija News understands that this is not the first time Nwaoboshi has a case with criminal allegations.
Source: Naija News