Lawal Daura Is Been Debriefed, Not Detained – Presidency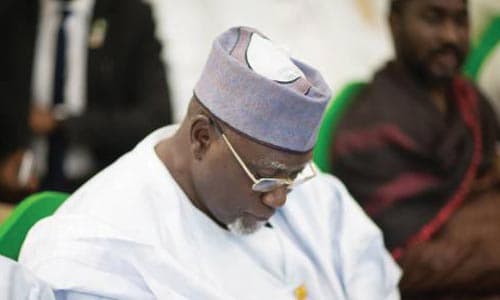 Presidency Clarifies Position On Lawal Daura
The Presidency has revealed that contrary to popular opinion, the sacked former DSS boss, Lawal Daura is not in detention, but is been debriefed.
The Presidency maintained that there was absolute need for proper debriefing and handing over process by Daura to the new leadership of the Department of State Services.
Mr. Femi Adesina, special adviser to President Buhari on media and publicity, made the clarification while appearing on ARISE NEWS television programme, Morning Show.
Adesina said, "I wouldn't call that detention really. You know that a person of that caliber (Daura) needed to be debriefed and he needs to hand over properly. This is security. On security at that level, you don't ask the man to go. No. There must be proper debriefing and handing over.
"Whether we like it or not, there were some milestone achievements under Daura – the Chibok girls' kidnap, which happened under the government you (Abati) served, on which there was no headway (the release of some of them happened under Daura).
"There is this problem that it is not everything that the hunter sees in the forest that he talks about. But at the risk of revealing something, l know that a breakthrough was about being achieved about Leah Sharibu before what happened to the DG, DSS happened.
"Then, do you think he should walk away without handing over to whoever is succeeding him? That is why there has to be that interface between him and his former subordinates who are now running the show for awhile."
Naija News recalls that Acting President, Yemi Osinbajo sacked Lawal Daura as Director-General of the Department of State Services, and appointed Mr. Matthew Seiyefa as his replacement following the National Assembly invasion by its masked operatives on August 7.