Benue Killings: Suspected Herdsmen Ambush Army, Kill Two Soldiers, Injure Others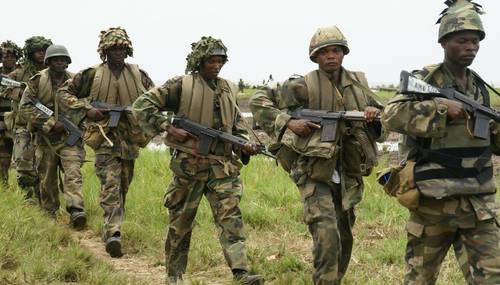 Suspected Herdsmen Allegedly Try To Repeat Plateau Massacre In Benue, Ambush Army Kill Two Soldiers leaving Others Injured.
Yet another attack has been launched yesterday morning by suspected herdsmen in local government areas of Benue and Nasarawa States.
The herdsmen reportedly ambushed soldiers in Bakin-Korta, Mbadwem Council Ward of Guma Local Government  of Benue and Keana of Nasarawa State leaving two soldiers attached to the 'Operation Whirl Stroke', dead.
The 'Operation Whirl Stroke' is a military operation in Benue,Nasarawa,Taraba and Zamfara
The attack also left the Unit Commander of the troops and another with serious injuries while their operational truck was riddled with bullets.
Confirming the development, the Guma Local Government council Chairman, Anthony Shawon said the incident occurred at about 5am.
According to him, "the herdsmen came on Monday and dug trenches around a new bridge the Governor Samuel Ortom administration built at Bakin-Korta linking Keana in Nasarawa State.
"I gathered they came in their numbers and dug the trenches on both sides of the bridge so that the army would not have easy access to the area in the event of an attack on Guma.
"When the soldiers got wind of the development, they mobilised the community to fill up the trenches. The people of the community in my local government went and filled it up.
"At about 5am today( Tuesday) the soldiers also moved to Keana to find out those who carried out the act and why.
"On their way after passing a Police check point on their way to Ruga a Fulani camp, somehow the herdsmen probably heard of their coming and laid ambush for the soldiers.
"In the ensuing shootout two of the soldiers were killed on the spot, a Captain who is the Unit Commander was also shot but he has been moved to the hospital in Makurdi for treatment and surgery.
"We learnt that they were planing to repeat what they did in Plateau State in Guma but for the quick response of the soldiers. I must commend the soldiers for taking a proactive measure to stop them but unfortunately they lost their personnel in the effort, it is regrettable," Shawon added.
This day reports that Efforts to reach the Force Commander of Operation Whirl Stroke, Maj. Gen. Adeyemi Yekini was unsuccessful as calls put to his phone were not responded to.
Source: Naija News