APC National Convention, Oshiomole Will Save APC From Its Present Unruly State,Shehu Sani Says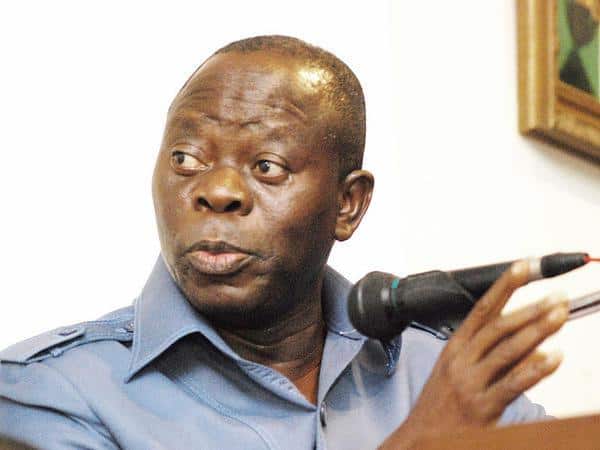 APC Is Presently An Unruly Party With A Broom Which Cannot Clean The Political Space.
An aggrieved senator of the All Progressives Congress (APC), Shehu Sani, has thrown his support behind a former Governor of Edo State, Adams Oshiomole, to succeed as the party chairman.
It will be recalled that Naija news reported Oshiomhole's major contender withdrew from the race some days ago which makes him the national chairman of the party unopposed.
the Kaduna Central senator described his party in its present form as "unruly" with a broom únable to clean the political space earlier today explain further
APC's Broom Has Been Stained By Faces Of Inequities, Glued With Mucus Of Injustices, Shehu Sanni Says
"In the last three years under Oyegun APC oscillate between Libya, Syria and Yemen situations. "In the last three years, APC's Broom was stained by the Faces of inequities and glued by the mucus of injustices. "In the last three years, APC became an unruly ruling party presiding over ruins of its subchapters. "Chief Oyegun is leaving behind an APC that he fashioned and erected on a heap of fraudulent congresses, Cold War and civil war. Chief Oyegun is leaving behind hatchets buried with leaves. Chief Oyegun is literally leaving behind Grenades covered with flowers of which Comrade Adams must detonate.
"In the last three years under the outgoing leadership of the party, APC's Broom was unable to clean the political space and even itself but rather became part of the nation's refuse and sewage waste."
Mr Sani is a frequent critic of the party and political leadership of the APC. His recent criticism came with a threat to dump the party if issues arising from 'illegitimate' and 'illegal' congresses are not properly addressed.
In his Saturday statement, Mr Sani expressed optimism that Mr Oshiomole will lead the party into a desired future.
"I believe Comrade Adams can take the party out of the woods and lead it to a new path and a new future. However, I advise that Adams must resist the blackmail and the stranglehold of the Lucifers within the party," he said.