Buhari Did Not Shun nPDP Members, Presidency And Oyegun Says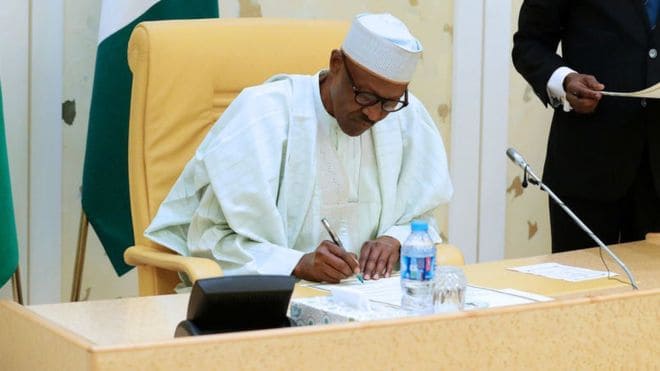 Buhari Ready To Personally Listen And Appease The Aggrieved nPDP
The All Progressives Congress (APC) and the presidency has denied the media reports that President Muhammadu Buhari had called the bluff of the new Peoples Democratic Party (nPDP) bloc of the ruling party that had declared a dispute, claiming it had been marginalized over several issues .
The APC National Chairman, Chief John Odigie-Oyegun, who made this known yesterday night said  that nothing of the sort happened and dismissed the reports as speculative and untrue.
"I read the story and it was clear to me that it was pure speculation. Absolutely no substance," he said.
Naija News also learnt that Oyegun's assertion was backed by a top presidency official, who said emphatically that Buhari did not shun the aggrieved nPDP and was ready to personally listen to them and appease them.
"President Muhammadu Buhari did not call the bluff of the nPDP and is not contemplating doing so. Rather he has asked Vice President Osinbajo to continue the negotiation with the group and to forward any agreement and understanding reached for his final action," the source said.
The presidential source also said  that the president only preferred that the resolution of the grievances in the party be kick-started at state and party levels and from there, progress gradually to his level, when he would take final briefings on findings.
According to the source, what the president said was that while the meeting is still ongoing between the nPDP, party leaders and governors, he would not like to interfere until the necessary avenues are exhausted.
The source further stated that indeed talks with the group were progressing and had consequently moved from party and state levels to the presidency, being currently superintended over by the vice-president.
He added that the president was waiting to be briefed on findings at the end of the discussions, explaining that Buhari's current decision was aimed at avoiding jumping into the ongoing process before it gets to his level.He insisted that the president had no intention to snub anyone but only wanted to observe due process.
The source said: "Decision not to meet nPDP is to show respect for the party, and the governors who the president believe are party leaders in their various states. A process has begun, with the party talking to those feeling estranged. The meeting has risen to the level of the vice-president.
"This is expected to continue. At the culmination of these meetings, the president will obviously be briefed. Before that point is reached, the president will not meddle or interfere. The president expects that the due process should be observed in all situations and that is what he is doing."
Download NAIJA NEWS app: