Ezekwesili Criticizes FG On Poor Economic Policies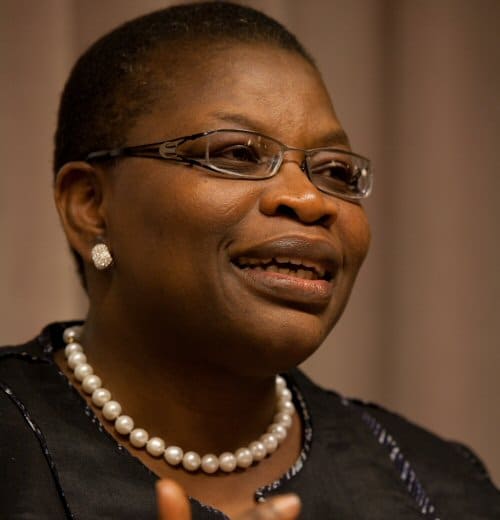 Mrs Oby Ezekwesili, the convener of Red Card Movement, has criticised the Federal Government for failing to come up with the right economic policies that plunged Nigeria into recession in 2014.
Naija News learnt that she raised her  accusation when featuring as a guest on Channels Television's breakfast show, Sunrise Daily in Abuja, the nation's capital."If you did the right economic policies at that time, you would have averted the recession."
Ezekwesili, who is also a former Vice President of World Bank and a former Minister of Education said Nigeria did not act fast like some other oil-producing countries.
While giving an assessment of the President Muhammadu Buhari's administration three years into office, she added, "Much other oil producing and exporting countries managed to avert the recession."The former Education Minister said that although the recession era is over, its effect is still being felt by the citizenry.
One of the effects, she stated, was the prevailing level of poverty most Nigerians were subjected to, just as the National Bureau of Statistics (NBS) put the poverty level at 60 percent.
"It (recession) costs us considerably huge effect on the populace. The truth is that we don't yet have poverty number from the NBS. When you have the kind of shock that the combination of oil shock collapse and poor economic response to it occasioned, you would have dropped many more of your citizens into poverty.
"Considering the last data that we know of poverty rate from the NBS it is something in the neighbourhood of 60 percent, hundreds of millions of your citizens are poor. You don't want to take any economic activity that would improve those numbers because that is disastrous," she stated.
Ezekwesili also advised the Federal Government to initiate good economic policies that would attract investors into the country.In doing that, she explained, the government needs to build confidence both in the minds of marketers, investors and consumers.
However, in response to the claims of  Ex-Minister of Education, the spokesman for the President Buhari Campaign Organisation, Mr Festus Keyamo, has negated the allegation that the current administration is to be blamed for economy thrown into recession.
According to him
Nobody should wake up because of political reasons and say that it was when this government came on board that we slipped into recession," he said.
Keyamo, who is also a Senior Advocate of Nigeria, argued that President Muhammadu Buhari inherited the recession from the previous administration in 2014.
He explained that the Federal Government also inherited about 24 states that were considered bankrupt following their inability to pay salaries in 2015.
He added, "At the point of handover in 2015, 24 states were almost bankrupt and could not pay salaries. Federal Government was borrowing to pay salaries at that point.
"The naira had begun the downward slide and at the time they handed over, it was N225 to a Dollar. So these are clear indices that there was something wrong and that we were headed to the bottom of a slope."