Just In: Nigerian Police To Fly Senator Dino Melaye To Lokoja By Force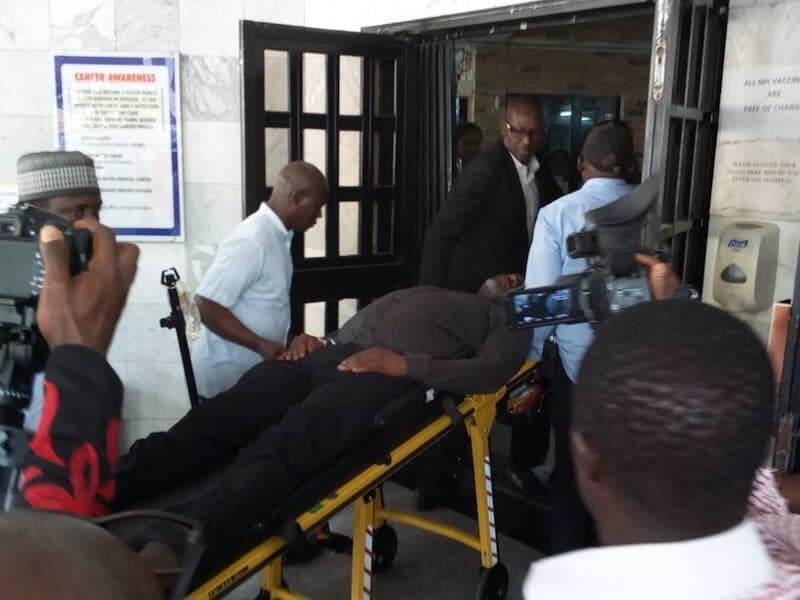 The Nigeria Police is set to move embattled senator, Dino Melaye to Lokoja to face trial for an alleged illegal firearms possession and arming of political thugs ThisDay reports.
Melaye representing Kogi West senatorial district might be flown to Lokoja, the Kogi State capital, today (Wednesday) in a police helicopter after same attempt to transport the embattled lawmaker by road to Lokoja last Tuesday was foiled
The senator had been hospitalised at National Hospital Abuja since last week when sustained injuries while resisting his forced movement to Lokoja by the operatives of the Special Anti-Robbery Squad (SARS).
Reliable sources close to The State Police Command disclosed to THISDAY that the plan to take the senator to Lokoja for the second time would take place today (Wednesday) and the means had changed from land to air transport for "security reasons."
It was gathered that the latest move by the police is contrary to medical advice from the authorities of the National Hospital in Abuja, a similar scenario that played out last Tuesday night at Zankli Hospital where Melaye was initially hospitalised, a development which led to the arrest of a medical doctor and Melaye's younger brother.
According to Sources at the hospital, Melaye was not medically fit to be taken away to any location for now.
The embattled senator had earlier cried out that some people want to assassinate him for the crime he did not commit.
However, the case is billed for hearing in Abuja as directed by the acting Chief Judge of the Federal High Court, Justice Abdul Kafarati.s