Why I Advised Buhari To Stop Adoke's Malabu Trial – Malami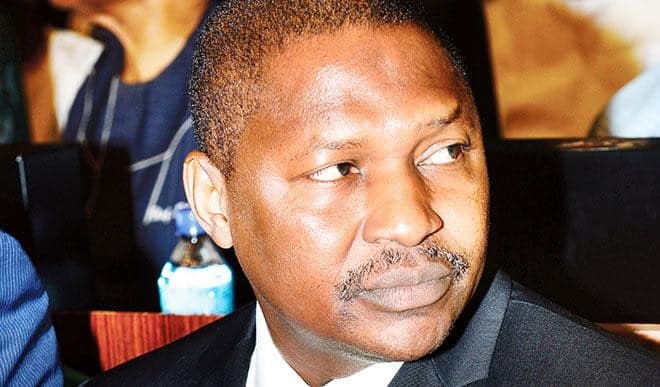 The Attorney General of the Federation, Mr. Abubakar Malami (SAN), has explained reasons behind the letter he wrote to President Muhammadu Buhari in which he advised the federal government to stop the prosecution of  the immediate-past AGF, Mr. Mohammed Adoke (SAN), and others, in respect of Malabu oil deal scam.
He submitted that there was not sufficient evidences to prove the money laundering charges against those involved in the trial.
Responding to an inquiry by The PUNCH on Monday, Malami said his letter to the government was not only about the Malabu trial, but to provide options to the government on how to improve on the revenue generation of the government through negotiating the resumption of production in the oil field.
He stated, "The letter was written within the context of the available investigation report on the basis of which the charges were filed which I find inadequate to earn a conviction.
"It also factored the Federal Government's policy of attracting foreign investment coupled with the fact that an asset that could have enhanced the revenue of the government is left unexploited on account of protracted litigation.
"The idea behind the letter is to present options available to government in relation to the issue inclusive of either improving on the inadequacies of the investigation or taking advantage of available investment attraction policy windows thereby improving on revenue generation of the government through negotiating the resumption of production in the oil field."
Recall the Economic and Financial Crimes Commission (EFCC) had filed charges of fraud and money laundering against Adoke, a former Minister of Petroleum, Dan Etete, and others in connection with the $1.1bn Malabu scam.
The alleged scam revolves around the highly lucrative Nigerian oil well, Oil Processing Licence 245, originally offered under controversial circumstances to Malabu Oil and Gas Ltd. by the then Gen. Sani Abacha military regime in 1998.
The anti-graft agency had alleged that the Nigerian government was defrauded in the alleged shady transactions involved in the oil deals.