2019 Elections: Politicians Hijack Herdsmen/Farmers Crisis – Miyetti Allah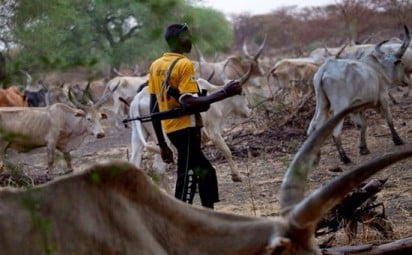 The National President of Miyetti Allah Kautal Hore, Alhaji Bello Badejo, on Thursday, lamented that politicians had hijacked the crisis ongoing between the herdsmen and farmers as a campaign strategy for 2019 elections.
Badejo, who disclosed this in Kano at a news conference, according to Punch, said politicians were exploiting the clash to create a division in the country, adding that labelling the Fulani as perpetrators of the recent killings in the country was unfair.
He said, "Politicians are interfering in the Fulani herdsmen/farmers crisis. They are trying to create a division. Politicians are punishing farmers and Fulani cattle herdsmen because they want to use the face-off as a basis for 2019 politics.''
He added that the Fulani were known for peace and cattle rearing only, adding that the establishment of cattle colonies by the Federal Government is a welcome idea.
"They plan to create 5,000 hectares of land to be used as cattle colonies in some states. It is a welcome idea, but if the Benue State Governor, Samuel Ortom, had agreed to create the proposed cattle colonies, rather than the grazing law he enacted, it would have not degenerated into the current controversy.
"Ortom's law is not favourable to the Fulani; that is why we are vehemently opposed to it. So, the proposed colony will serve as an enduring solution to the lingering Fulani herdsmen/farmers crisis. We are in support of the Federal Government's agenda to create the colonies.
"Only desperate politicians are opposed to the creation of cattle colonies for Fulani herdsmen. These issues have been politicised. Anyone armed with AK-47 rifle cannot be rearing cows; such a person must be an armed robber disguising as a Fulani herdsman," he said.
He stated further any Fulani man caught invading any farm should be arrested and cautioned rather than hyping the issue.
Badejo therefore, called on the Inspector General of Police, Ibrahim Idris, carry out thorough investigation, establish the truth and prosecute whoever found guilty.