#Budget2018 Live Update: Buhari Presents N8.612tr 2018 Budget To National Assembly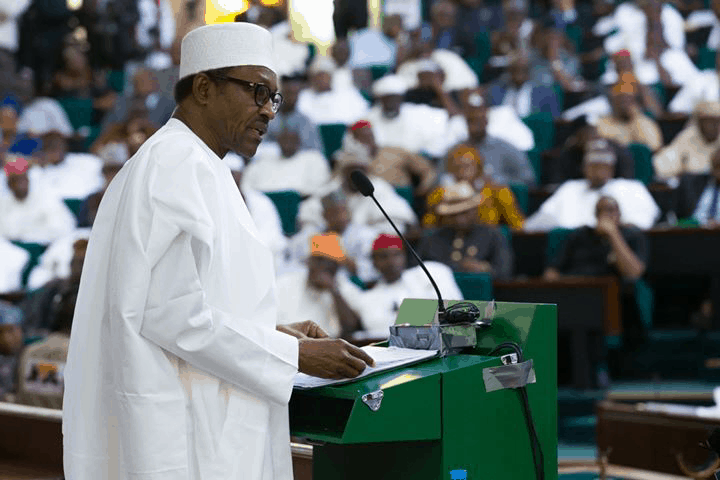 President Muhammadu Buhari is currently live at a meeting with a joint session of the National Assembly for the presentation of the 2018 budget, a constitutional requirement in Nigeria.
The budget presentation of the 2018 appropriation budget as started at the National Assembly  in Abuja
2.01pm: The Senate has approved a motion to receive President Muhammadu Buhari to present the 2018 Appropriation Bill.
2:05pm:President Muhammadu Buhari arrives at the National Assembly and the national anthem is sung.
2:08pm:The senate president Bukola Saraki asks two lawmakers to pray in both the christian and the Muslim faith
2:12pm:The senate president addresses the joint session
He commends the National Economic Team. "We must work together to steer the ship of this country…we must grow our economy"
He enjoins the economic team to ensure that the 2018 bugdet must be a job oriented budget
The Joint Session of the @NGRSenate and @HouseNGR on the #Budget2018 has commenced. SP, @bukolasaraki addresses the session.

— The Nigerian Senate (@NGRSenate) November 7, 2017
2:15pm Saraki points that the rate of rural urban migration was alarming, he also pointed out that members of the national assembly were closed partners of the president and enjoined him to lobby them as much as possible.
Saraki thanks members of National Assembly for putting country first and resisted the urge to play politics during President Buhari's time away.
2:16pm: We must reassess the relationship btw oil & our economy. Oil prices are gradually inching up, but that is no reason for complacency – Saraki
2:17pm: We must grow our economy away from oil – as well as the need to increase non-oil revenue generation & collection
2:18pm: With the high level of co-operation between the executive and legislature, I have no doubt that the budget process will be smooth, efficient and beneficial to the nation.
2:19pm: Saraki commend President Buhari and the Economic Management Team, his colleagues and Honourable members of the House of Representatives as well as all Nigerians, for working together to make the necessary sacrifices to get the economy out of recession.
---
2:23pm: President Muhammadu Buhari presents the budget proposal to the national assembly.
2:24pm: Buhari points out that the year 2017 has been a year of uncertainty accross the world. He says that year 2018 is expected to be a year of better opportunities
2:25pm: He noted that agriculture has been a contribution to non oil growth.
2:26pm: On issue of security, he pointed that Nigeria needed to address grievances through dialogue.
2:27pm:Buhari pointed that the Ogoni clean up will be funded by Nigeria's international partners, He noted however that there is a provision for the clean up in the Nigerian budget.
2:28pm: Buhari points out that Nigeria invested N1.2tr in capital projects in 2016, We invested $500M in sovereign wealth fund.
2:30pm: Buhari pointed that stably had be restore in the Forex market and Nigeria's external resear had increase to $34bn.
2:34pm: Export outgrew imports in second quarter of 2017.
2:36pm: We surpassed our target in ease of doing business ranking.
2:37pm: Our tax to GDP ratio is one of the lowest globally.
2:38pm: Buhari promises that government shall continue to develop infrastures.
2:44pm: Over 766 KM of road were built in 2016
2:47pm: Our power sectore reforms remains a work in progess
2:50pm: Buhari states that Nigeria is committed to developing green energy and other alternative power sources
2:53pm: Despite low oil prices, this administration has invested additional $500million into the Sovereign Wealth Fund
2:54pm: The agricultural sector plays a remarkable role in Nigeria's exit from recession, it is still the biggest employer of labour.
2:55pm: The President said 6 crop processing zones will be established in 2018 to develop infrastructure for production and processing of crops
2:55pm:We have purchased 10 locomotives and two coaches for the Abuja-Kaduna rail line…we plan to commission this in December 2017.
2:58pm:Food security is an important aspect of this administration's security agenda – Buhari
3:05pm:Anybody involved with food smuggling is a threat to our national security and will therefore be dealt with – Buhari
3:12pm: Total projected revenue in 2018 is expected to be N6.6trn
3:12pm:Total projected non oil revenue is expected to be N4,1trn
3:12pm: Total projected oil revenue in 2018 is expected to be N2.442trn
3:13pm: Total expected expentdintuere is N8.612trn
3:13pm: Buhari says Nigeria plans to borrow N1.6trn
3:20pm The President said 9.8 billion Naira will be set aside for the Mambilla power project and N300 billion for construction and rehabilitation roads.
3:22pm Budget provision to the Niger Delta Development Commission has increased from N53.89 billion from N34.2 billion in 2017.
3:25pm: The Niger Delta Amnesty programme is sustained in the 2018 budget as President Buhari says all projects in the region would be completed. He says attention is being given to the northeast ravaged by insurgency as well as other areas where cattle rustlers operate.
3:31pm: Buhari finally lays the budget of N8.6 trillion to the joint session. The budget is projected at an oil price of $45 per barrel and an estimate of 2.3 million barrels per day. He adds that the budget is further projected on an exchange rate of N305 to $1, a real Gross Domestic Growth of 3.5 per cent and inflation rate of 12.4 per cent.
3:33pm: Buhari is hailed as he hands the budget over to the leadership of the joint session.
---
3:33pm: Speaker Dogara gives the Vote of Thanks.
3:41pm: Dogara pleads with the executive arm of government to run the government adding the legislators in the scheme of things.
3:44pm: Dogara thanks Buhari for moving Nigeria out of recession. He however laments that despite this status, many of the citizens still live in poverty which must be tackled. Dogara pleads with the executive arm of government to run the government adding the legislators in the scheme of things.
3:44: Dogara thanks Buhari for moving Nigeria out of recession. He however laments that despite this status, many of the citizens still live in poverty which must be tackled.