'Don't Forget': Arewa Youths Reveal What Tinubu, Sanwo-Olu Promised Northerners Before Election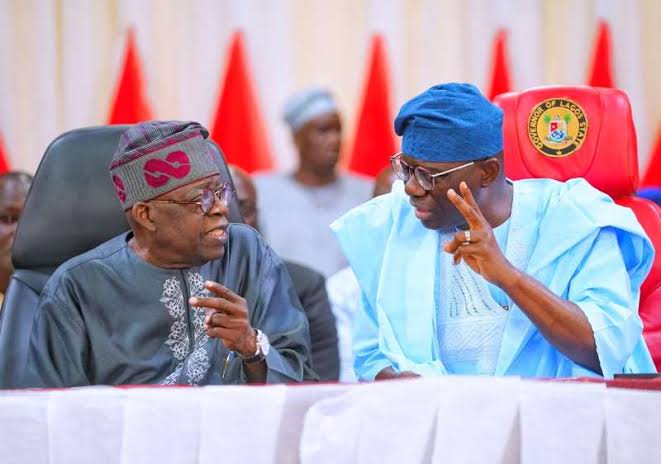 The Arewa Youth Consultative Forum (AYCF) has called on the president-elect, Bola Tinubu not to go back on the promises made to the northerners ahead of the 2023 elections.
The group in a personally signed statement by its president, Alhaji Yerima Shettima also appealed to the Lagos State Governor, Babajide Sanwo-Olu to ensure he also upholds his end of the bargain in the agreement made before the elections.
Shettima in a statement made available to Naija News said the northerners have fulfilled their parts by voting for both Tinubu and Sanwo-Olu of the All Progressives Congress (APC) and they believe the two leaders won't go back or forget the promises made to them.
While congratulating Tinubu and Sanwo-Olu on their respective victories, the ACYF president also commended the leaders of the Arewa community in Lagos for the roles they played during the elections.
He revealed that they were promised that their image, integrity, and safety, including the Arewa Community in Lagos, would be well protected.
Shettima, therefore, urged the duo not to renege on their promise as they didn't collect a dime to vote for them.
He said: "We have seen how much self-sacrifice was made by Arewa community in Lagos led by the Sarkin Hausawan Lagos, Alhaji (Dr) Aminu Yaro Dogara, along with Sarkin Fulanin Lagos, Alhaji (Dr) Muhammad Abubakar Bambado, during the presidential elections.
"It is gratifying to note that the contribution of voters of the Arewa community in Lagos has helped greatly in securing the victory of Asiwaju Bola Ahmed Tinubu. It is even more gratifying that the Arewa community helped to secure Asiwaju's victory voluntarily, without requesting a dime from the presidential candidate.
"We are compelled to openly express our happiness over the volunteerism and self-sacrifice of the Arewa community led by both Sarkin Hausawa and Sarkin Fulani monarchs, including their kith and kins in the 19 states of Northern Nigeria, in the election that produced Asiwaju Bola Ahmed Tinubu as Nigeria's democratically-elected leader.
"We feel duty bound, therefore, to follow-up on the promise made by President-elect Bola Ahmed Tinubu to all northerners, to redeem his beautiful promise of protecting their image, integrity and safety, including the Arewa Community in Lagos. We believe this will further strengthen their faith in the capacity of the President-elect to deliver on his mandate.
"Most importantly, promise is a debt, and we believe the President-elect and the incumbent governor (whose mandate has just been renewed) are well aware of this truism.
"We hope they will live up to expectations as soon as possible, especially for a voting population that did not collect a single Kobo before casting their votes for the both the President-elect and the Governor," the statement said adding that the Arewa community in Lagos considers Tinubu a "big brother and son of our late leader and Sarkin Hausawa, Alhaji Dogara Yaro, whom he fondly called Baba."