APC Campaign Council Rises In Defence Of Yahaya Bello Over Alleged Lukewarm Attitude To Tinubu's Campaign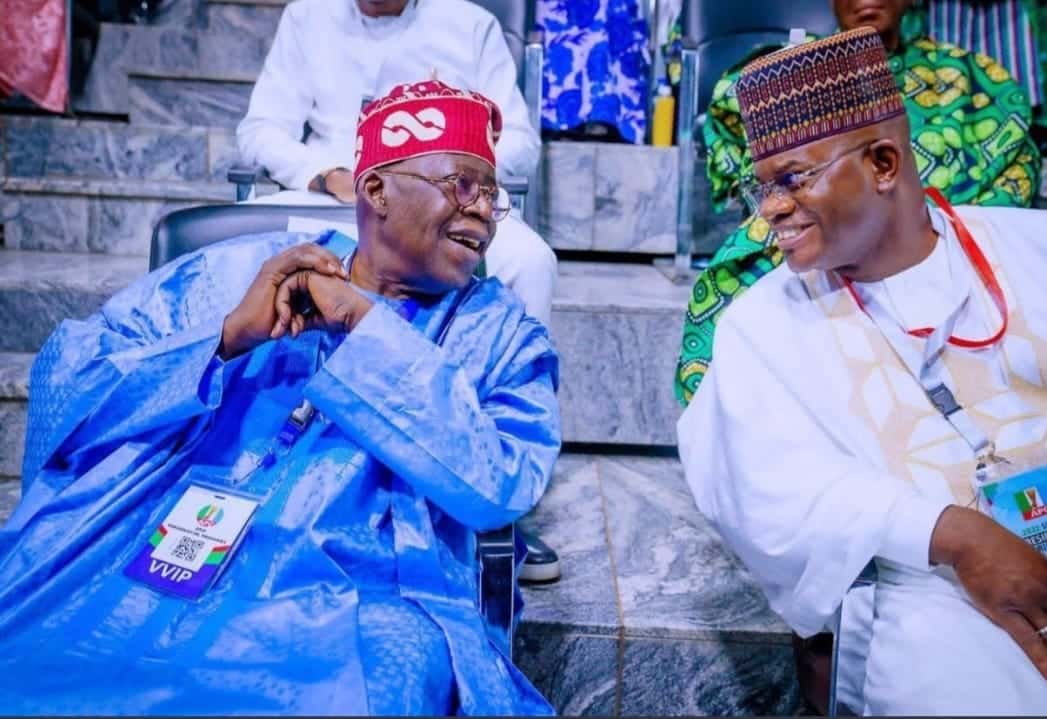 The Presidential Campaign Council (PCC) of the All Progressives Congress (APC) has come out to defend the Kogi State Governor, Yahaya Bello over his alleged lukewarm attitude to campaigning for the party's flag bearer, Bola Tinubu.
Naija News reports that some aggrieved loyalists of Tinubu have alleged that Bello, who is the National Youth Coordinator of the PCC, has not justified his inclusion in the campaign council.
The allegation follows his absence from campaign events of the APC flag bearer since he was appointed as youth coordinator in September.
This platform gathered that one of such aggrieved APC loyalists, who pleaded anonymity told Punch "We understand that he was appointed as national youth coordinator to help galvanise support for Tinubu in Kogi and other states in the North-Central region. But what we have been seeing from him so far is unimpressive.
"He only goes about calling himself 'White Lion' but not participating in all the rallies. Even that young Seyi Tinubu has done more than him in terms of youth mobilisation in the last two months. He has not justified his inclusion in the PCC at all."
However, when called to react to the situation, the chief spokesman for the APC campaign council, Festus Keyamo, rose in Bello's defence saying it was obvious many people did not understand the effort Bello had put into the campaign.
Keyamo explained that Bello's absence from most of the rallies did not connote apathy.
He told Punch that "I spoke with Yahaya Bello yesterday and I can say he is one of the best strategic planners we have. With what he has set now, by the time he explodes, Nigerians will know.
"You know he heads a very strategic department and he is more than ready for the campaign 100 per cent."
Naija News reported on 9 December that Bello had come out to state the reason why he is yet to be active in the campaigns of the APC presidential candidate.
The governor told Seyi Tinubu, son of the APC flag bearer, who paid him a visit in Lokoja, the Kogi State capital that he has since the flag off of Tinubu's presidential campaign being working underground for him.
The governor said "I am with Asiwaju (Tinubu). I am doing some underground work for the success of Asiwaju as President and for the APC, which is why I have not been following the campaign train up and down. I may not be following Asiwaju up and down, but what I'm doing is far above what the eye can see.
"Come 2023, we will record a landslide victory."
However, Naija News understand that despite coming out to give a reason for his absence at campaign events, some APC stalwarts still think he might just be an unproductive addition to the campaign council.
But similarly, just like Keyamo, the Director of Media and Publicity for the Tinubu-Shettima PCC, Bayo Onanuga, also supported the governor saying he was due to make an appearance at the APC youth rally in Abuja on Saturday.
He told Punch that the media would have to stop making a mountain out of a molehill.
Onanuga submitted that "You journalists are always looking for negatives. It is not true. Why don't you wait for the youth rally to know if he will be there? That should also clear any doubt about his commitment to Asiwaju's mobilisation campaign.
"Bello is the leader of the youths, hence I will implore you to wait for their planned rally in Abuja. People should understand this campaign is driven by so many forces. Yahaya Bello being the head does not mean that you will see him everywhere. That is not the way it ought to be run.
"Tinubu was spotted in Kaduna some days ago, he was seen again in Niger State yesterday. Yet there are people doing campaigns for him in many other parts of the country simultaneously. He doesn't have to be in all of them.
"The youths are being mobilised from all parts of the country. Bello doesn't also need to be seen physically in many of the rallies being organised for youths. You journalists should fathom this before rushing to conclude that someone is not committed to a cause or showing apathy."