Nigerians Under Fresh Xenophobic Attacks In South Africa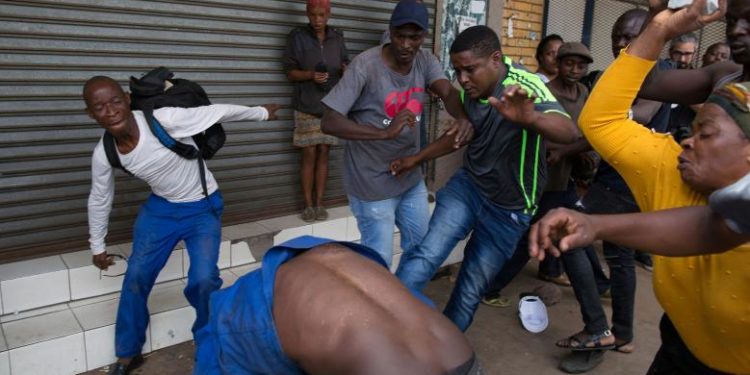 Renewed xenophobic attacks on Nigerians living in South Africa, has been recorded, Naija News understands.
A report monitored on The Nation newspaper by Naija News, quoted reliable sources to have said that the attacks took place in Mpumalanga, eastern South Africa, bordering the nations of Swaziland and Mozambique.
The report said the leadership of Nigerian Citizens South Africa (NICASA) and the Nigeria Consular General to South Africa are gathering information on the fresh attacks on Nigerians in South Africa.
Naija News reports that the fresh xenophobic attack on Nigerians is coming three weeks after President Buhari visited South Africa over the September attacks on Nigerians in the country.
This online news platform recalls that Johannesburg and other cities in South Africa were hit by a surge of attacks against businesses owned by Nigerians and other foreigners in September, leaving at least 10 people dead and prompting protests from several African countries.
Reacting to the attacks then, a South African Bishop, who is the archbishop of the Southern African Catholic bishops' conference office for migrants and refugees, Buti Tlhagale, had said that the recent attack on Nigerians and other foreigners in South Africa is an act of xenophobia, not criminality.
The South African Bishop said there were clear indications that foreigners were the target.
Bishop Tlhagale, who faulted the response of security operatives in South Africa asked why South Africans who were involved in drug peddling were not affected in the attacks.
"Once again we received reports of the authorities doing very little to protect the victims. We received reports of police standing by idly in Pretoria while shops were being looted and people attacked. Not a single arrest was made on that day," the South African Bishop had said.
"Once again the authorities resort to the old explanation: that this is not xenophobia, but the work of criminal elements. Let us be absolutely clear – this is not an attempt by concerned South Africans to rid our cities of drug dealers. And this is not the work of a few criminal elements. It is xenophobia, plain and simple," the Bishop had said in September.