PDP's Suspension, Family Upbringing – Reps Minority Leader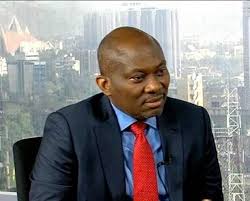 The Minority Leader of the House of Representatives, Hon. Ndudi Elumelu, has said his suspension by the Peoples Democratic Party (PDP) was part of family upbringing.
He made this known while speaking to newsmen after visiting former Head of State, Ibrahim Babangida.
Naija News recalls that the PDP had suspended Elumelu and other lawmakers after they failed to attend a meeting called by the party's leadership.
The lawmakers were summoned after they were announced as the minority leaders in the House of Representatives, going against the directives of the main opposition party.
Speaking on the suspension, Elumelu said, "Naturally in parliament, members always love to elect their leaders and of course it was taken. After the elections, we were invited to brief the Party on what happened but unfortunately, we had all left Abuja to our various constituencies.
"Some of us got the summon through our security men and we instructed our aides to reply on our behalf because we were not there to sign the letters. If I had been there, I would have signed it, it would give meant that I was around.
"That was the issue and I think they felt we ought to have come in person and that informed the suspension. It is part of politics and it is part of family upbringing. When your parents are bringing you up, they will find a way to put you in the right footing. We have come over it and we are good to go."
The Minority leader noted that the relationship with the ruling party and the Opposition Party in the House of Representatives is very cordial adding that they will continue to give constructive criticism and give the people good dividend of democracy.