Ramadan Fast, Hot Weather Booming Ice Block Business In Bauchi State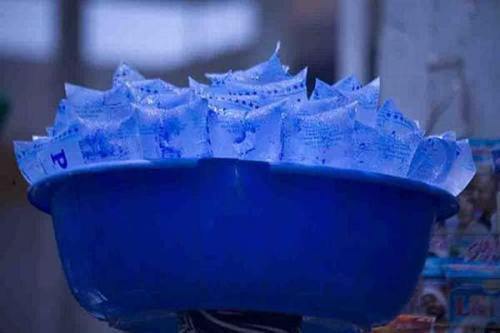 The unprecedented hot weather and the on-going Ramadan Fast has boomed the business of iceblock vendors in Bauchi state.
News Agency of Nigeria (NAN) checks indicated that the unbearable weather condition has made ice blocks to be the most scarce and sort for commodity, much more than even fruits and other delicacies.
Naija News understands that the Ramadan Fast which commenced  Monday, last week will run for 30 days.
When newsmen visited popular ice block business joints at Fadamar Mada and Yelwa areas of Bauchi metropolis, they noticed that in spite of the 100 percent hike in average size block, from the previous N50 to N100, customers were seen jostling for the commodity, with the sellers holding sway.
On days when the blocks were limited, securing the same by customers became 'survival of the fittest' resulting in fists been exchanged in the process.
Malam Usman Suleiman, an ice block seller in Fadaman Mada, said business had never been that brisk for the past few years. He put the returns of his daily sales at about N30,000, just as he confirmed that others in same business but domiciled in a strategic location, made higher returns.
Another seller, Husaini Abubakar, said their customers were not restricted to only Bauchi metropolis, but also came from neighbouring Darazo, Ningi, Dass and Alkaleri towns. "In spite of large quantity we provide, we can hardly satisfy the high demand, as such many customers go home without the product.
NAN checks revealed that apart from customers that buy the block to mix with water for drinking, a large chunk of buyers are sachet water, soft drinks and gruel sellers, who need the ice blocks to keep their wares cool for higher patronage.
Some customers interviewed attributed this development to the epileptic power supply being experienced nationwide, thereby making it impossible to preserve cold water in refrigerators.
Most of the ice block sellers are having an edge over others because they are either using their power generating sets or lived in privileged areas or houses that hardly lacked electricity supply to power their jumbo-size, deep-freezer-dominated refrigerators.
Source: Naija News