NLC Strike: How Patients, Students, Others Are Affected In Kano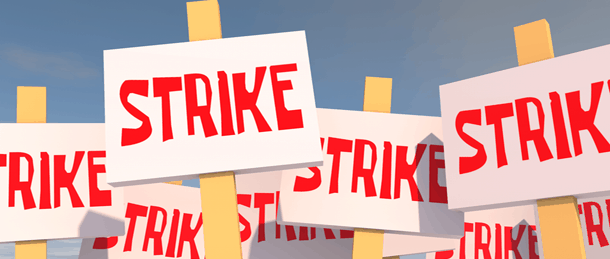 Situation Report Of NLC Strike In Kano State.
Nigerian Labour Congress (NLC) today, forced commercial banks, government agencies to comply with the seven days warning strike in Kano state shutting down business activities.
Workers are demanding for the implementation of the new minimum wage for Nigerian workers in the country.
Kano state Chairman of NLC, Comrade Kabiru Ado Mingibir told journalists that workers in the state are fully complying with the national directive.
Kabiru said the union intended to shut all both public and private sectors saying the state government had already been notified.
Commercial banks in Murtala Mohammad way, Post Office and Bello roads, as well as Zoo road, were closed as at the time of filing the report.
Workers were already at sit-at-home just as the Audu Bako Secretariat remained under lock.
While road users like students of Public and private schools avoided the roads the students of Bayero University, Kano  who are currently writing their semester examination were stranded as they were notified that the exercise would not continue owing to the industrial disharmony. The two campuses were deserted as at the time of visit.
Nevertheless, at Aminu Kano Teaching Hospital (AKTH) as patients were seen receiving medical attention in various units visited.
In a chat with Chairman, Joint Health Workers Unions, AKTH branch, Comrade Sarki Adamu Musa, it was disclosed that health workers aside doctors will join the nationwide strike after Congress.
Meanwhile, the National Associate of Resident Doctors (NARD) has dissociated medical doctors from the ongoing industrial action, the guardian reports
National Vice President of NARD Dr Ahmad Rufai Tukur told newsmen in Kano that doctors in Nigeria are not members of NLC. According to him, doctors will remain inactive core duty across hospitals in Nigeria to render services to patients.
The NARD vice president however posited that "despite the fact that doctors are not part of the ongoing strike neither are we affiliate members of NLC, we want to urge the Federal government to look into the plight of labour and reach amicable resolution in the interest of a common man who could not afford private medical services".