Impeachment Threat : Saraki's Removal From Office Is A Task That Must Be Done,Oshiomole Insists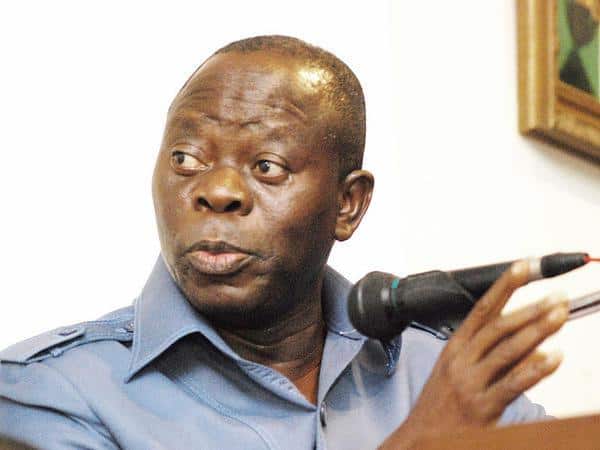 The National Chairman of the All Progressives Congress, Adams Oshiomhole, has reiterated his call for the impeachment of the Senate President, Bukola Saraki, Naija News Understands.
The former Edo state governor Who  made the call at a meeting with the APC Senators and members of the House of Representatives, in Abuja, earlier today said Saraki's removal from office is a task that must be done because the party and its majority lawmakers would not accept minority rule.
The party chairman accused a section of the media of pandering to the dictates of the opposition Peoples Democratic Party by making it appear as if the APC is the aggressor in theface-offf between the Senate and the Executive.
Oshiomhole said, "We will impeach Saraki legally and democratically."The only way he can avoid impeachment is to either resign or return to the majority party- even then we will not accept him, he should remain where he is. "No amount of blackmail or sponsored analysts can stop his removal."
He also said the threat of a government shut down was imminent as such there was the need for lawmakers on the APC platform should do everybody legally possible to reconvene the National Assembly in order to approve President Muhammadu Buhari's request for the passage of INEC's 2019 Election budget.
The meeting has gone into a closed-door session.