Senators React As DSS Operatives Take Over National Assembly Complex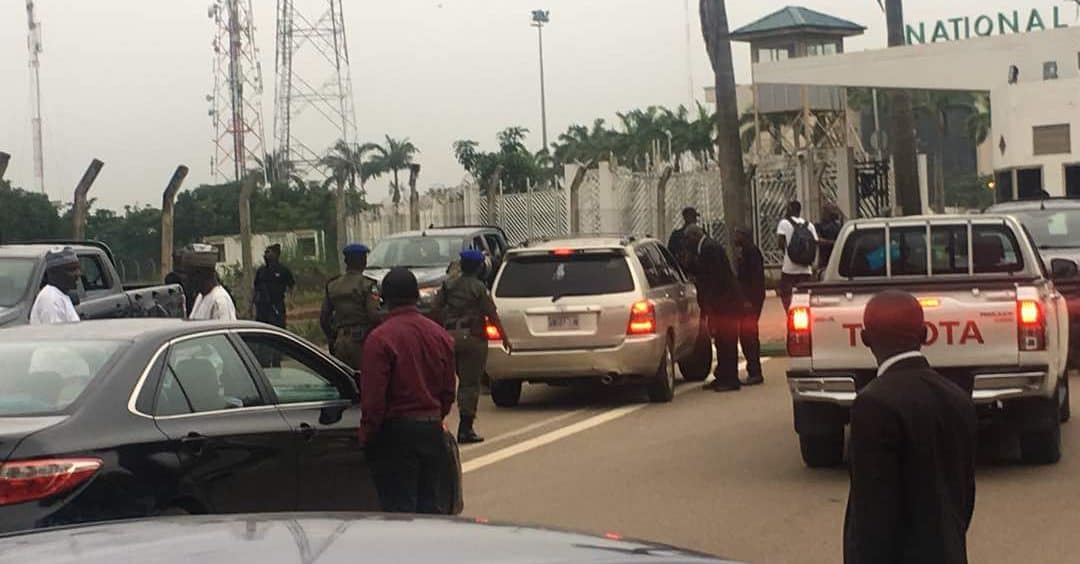 Reactions Trail Siege On National Assembly By DSS Operatives
Some senators who were denied entrance into the National Assembly earlier today have reacted to the development of the lock down by operatives of the Department of State Services.
Naija News reports that armed and masked officials of the Department of State Services, blocked access into the National Assembly complex, preventing lawmakers, staff as well as journalist from gaining access.
The security operatives later allowed only lawmakers to access the complex but the lawmakers can't access their offices and the chamber as those in charge
Rafiu Ibrahim, a senator from Kwara state, was first to arrive among the senators."We got here this morning to go into our office as usual; I work very early. During recess we do committee works and our own writings. I'm writing a book, so I go in there almost every day," he said.
A serving Senator, Senator Rafiu Ibrahim is being denied access into his office by the DSS. He asks the DSS officials "Has the military taken over?" #SaveOurDemocracy pic.twitter.com/U9vWF3UKhY

— Olu W. Onemola (@OnemolaOlu) August 7, 2018
"We got here and DSS has taken over all the gates, all entrances to the National Assembly and they said it's order from above. We asked them why, they said there is no reason. As it is today, it means Nigeria is under siege."
Ben Murray-Bruce, PDP-Bayelsa, also condemned the situation. It has come to out attention that our colleagues cannot go to work after we adjourned for recess.
We will forever defend this hard fought democracy. Illegality will never stand! We are now in the complex but are yet to get access to the chambers as staff of the National Assembly incharge of this have been blocked from entry. #SaveOurDemocracy pic.twitter.com/vMnfOFFtF8

— Ben Murray-Bruce (@benmurraybruce) August 7, 2018
Senator Kabir Ibrahim, in his reaction also  said they had to force their way in to forestall any act of illegality.
"I got to the gate five minutes to seven. There were masked DSS men there and the Nigeria Police. But we are in now and waiting for our colleagues. They (security agents) gave us a condition.
They said the building will be open by 9:00 am and that they have a list that contains those (lawmakers) that will be allowed to go in".
"I have contacted the UK and US Embassy to revoke the visa of Senator Akpabio or anybody leading this assault on this institution. We will ask them to revoke the visas of their wives and that of their children. They will not be allowed to leave Nigeria to travel to any nation in western Europe and North America," he said.
Minority Leader Godswill Akpabio is expected to defect from the PDP to the ruling All Progressives Congress.
Outside the National Assembly chambers with other defenders of democracy; Senators and House of Reps members. A few of us finally got our way in, but the media have been blocked from entry. However, we have our phones & will make sure injustice doesn't prevail. #SaveOurDemocracy pic.twitter.com/BLxTTwTnu5

— Ben Murray-Bruce (@benmurraybruce) August 7, 2018
His move has left many surprised as it came at a time many senators were leaving the APC for the PDP. Mr Akpabio has been mentioned amongst those interested in the position of senate president if Mr Saraki is removed.More senators and members of the House of Representatives are arriving.
Honourable Boma Goodhead from Rivers State, confronts the masked men blocking the National Assembly. #TheWholeWorldIsWatching #SaveOurDemocracy pic.twitter.com/AnbPJyb5GE

— Olu W. Onemola (@OnemolaOlu) August 7, 2018
Meanwhile, as at the time of filing this report, the security operatives have started allowing lawmakers to gain access into the chamber, but staff and other visitors are still being prevented from gaining access.
Copyright Naija News 2018.
 All rights reserved. You may only share Naija News content using our sharing buttons. Send all news and press releases to
[email protected]
.