Resign Your Seats Now, Falana Tells Decamped Lawmakers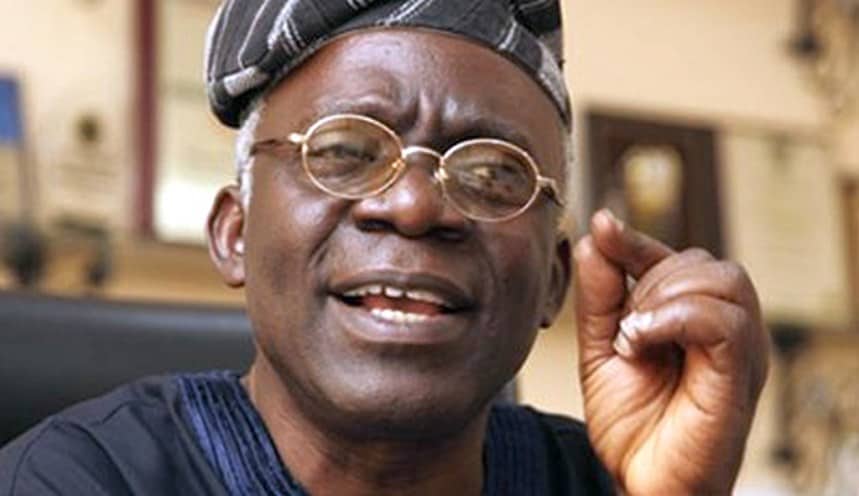 Mr. Femi Falana, popular Lawyer and Human Right Activist, has recommended that lawmakers who decamped from the All Progressives Congress (APC) to the People's Democratic Party (PDP) and vise versa should resign their seat in the Legislative.
Falana advised the defectors, who are mostly members of Reformed- All Progressives Congress (R-APC), in a statement made available to Newsmen in Abuja, that they should forgo their mandate and wait for another during the next elections.
Naija News recalls that the ruling All Progressive Congress (APC) lost 13 senators and 37 members of the House of Representatives, the height of the political move was the defection of the Senate President, Bukola Saraki.
The Prominent lawyer, however, clarified that the defection of the governors of Benue State, Kwara State and Sokoto State is not against the law.
He condemned an alleged attempt by eight of the 30 members of the Benue State House of Assembly to impeach Governor Samuel Ortom.
The lawyer also admonished APC to drop the idea of impeaching the Senate President has the process requires the support of 2/3 of the entire senate.
"No doubt, the members of the R-APC were dissatisfied with the running of the affairs of the APC, but they did not hold any parallel convention, which would have produced elected officials of the aggrieved members.
"To that extent, the defection of the R-APC legislators from the APC to the PDP and ADC can be impugned under Section 68 (1) (g) of the Constitution.
"However, since the APC had allowed legislators to defect from the PDP to join its fold in the recent past, the ruling party lacks the moral and political right to condemn the defection of the R-APC legislators.
"But the crass opportunism of the APC cannot legitimise the prostitution of the political system. Having defected from the APC, which sponsored their elections, the R-APC defectors ought to resign from the legislative houses and seek a fresh mandate from the electorate." Falana said.
Falana also argued that on the basis of a decided case, "…the defection of Governors Tambuwal, Ortom and Ahmed of Sokoto, Benue and Kwara states respectively from the APC to the PDP cannot be said to be illegal or unconstitutional."
Source: Naija News