Ortom Has Not Been Served Impeachment Notice Says Benue House Of Assembly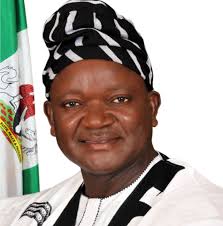 New Speaker Of Benue House Of Assembly Insists That Ortom Cannot Be Said To Be Impeached.
Speaker of the Benue State House of Assembly, Hon Titus Ugba, has  given reason why the Executive Governor of Benue State, Samuel Ortom, is yet to be served an impeachment notice.
Ugba who stated this while speaking with journalists in Lagos, at the 2018 Conference of Speakers hosted by the Lagos State House of Assembly, at the Radisson Blu Hotel, Ikeja Saturday, explained that "The eight members in Benue State did not give the Governor Impeachment notice; they said they are looking for signatures to impeach him.
"You can't give impeachment notice before seeking for signatures of members for Governor's impeachment," he said.
Naija News recalls that this yet another protest of the irregularities that plagued the notice of impeachment given to the Benue governor.
He stressed that the eight lawmakers did not follow the due process in serving the Governor Impeachment notice, adding that there was no plan to impeach the governor, adding further that the police had been giving court order to vacate the assembly complex for the lawmakers to perform their legislative duties.
The Speaker had earlier expressed confidence in leading the Assembly despite the crisis in the state, debunking the allegation against the Governor on the payment of N20million to a Boko Haram suspect.
He noted that the security apparatus at the IDPs camp have been withdrawn and that herdsmen have started coming back into Benue State.
Ugba added "Benue has once again demonstrated that democracy is a thing of the people. On the 24th of July to be precise, 22 members came together to say they are tired of what the previous speaker was doing and now they made me the speaker of Benue State House of Assembly.
"When I came here yesterday I was not initially allowed to participate in the speakers conference but the speakers rose that I have to attend because it is not the conference of Speakers that determines who is the speaker of the House. So, I was allowed because the conference is not about partisan but coming together as a family to promote the unity of this country"
Source: Naija News