Over 3,000 PDP Members Defect To APC In Delta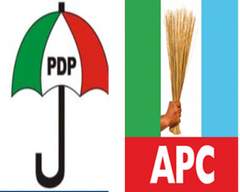 Chief Florence Akpoyibo Ayomanor, A former Women leader of the Peoples Democratic Party, PDP, in Ughelli North Local Government Area, Delta State yesterday defected to the All Progressives Congress, APC with over 3,000 followers and political associates.
The decampees were received during a meeting of Leaders and Stakeholders of the APC held at the Evwreni country home of the Executive Director of Projects, EDP in the Niger Delta Development Commission, NDDC, Engr Sam Adjogbe.
They also passed a vote of confidence and endorsed President Muhammadu Buhari for a second term in office.
They lauded the performance of the President through the Commission since the present board was constituted.
Chief Sam Kohwo said President Mohammadu Buhari administration meant well for Nigerians and a second term was needed so he could complete his good works.
Welcoming Decampees on behalf of the APC Engr. Sam Adjogbe, said the party was ready to accommodate people with stable character, urging the decampees to be committed to the service of the party.
Adjogbe said, "we don't want people that will come here today and leave tomorrow. We must be dedicated to the service of mankind because that is the only way we can achieve the change that we have surrender to achieve.
"You people can attest to the change we are experiencing in the Niger Delta region through the Niger Delta Development Commission.
"On behalf of myself and the APC family in Delta, I welcome you all to the party and as from today, you will be treated like every other APC member across the country. There will be no discrimination against any member whether old or new; every member will be treated equally and I will encourage you to go back and register your names with your ward Chairmen and put your name in the book of life so that when the roll-call is made your name would be found."
Speaking on behalf of the defectors, Chief Florence Akpoyibo Ayomanor, said they have decided to join the APC due to the massive developmental projects in the local government that have been completed and still ongoing by the NDDC.
She commended Engr. Adjogbe for his efforts to see that the area is being developed.
Source: Naija News