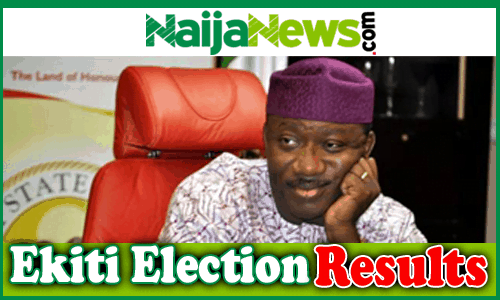 PDP To Challenge Ekiti Governorship Election Result At The Tribunal
The national leadership of the Peoples Democratic Party has said that it has what it called "facts" on how the APC led federal government  connived with Independent National Electoral  Commission (INEC)to rig the last  governorship election in Ekiti State.
Naija News learnt that the national vice chairman of the party, South West, Engr. Eddy Olafeso  who disclosed this to Daily Independent in a telephone chat  said that the party has gathered its facts and would head to the tribunal to seek justice.
"Our position is that INEC has compromised and the result of that election is not acceptable to us. INEC has shown by its conduct that it is providing cover for APC with the help of security agents. It has connived with security agents to beat and manhandle our members. They harassed our agents and have openly shown to all that they are not capable of conducting a free and fair election."
"They have connived with All Progressives Congress (APC) to act in tandem with the instructions given to them. We have made our position known that we are heading to the tribunal. We will seek for our mandate that has been given to us by the people and by the grace of God we will get it" Olafeso said.
Source: Naija News