Court Postpones Secondus NI.5b Suit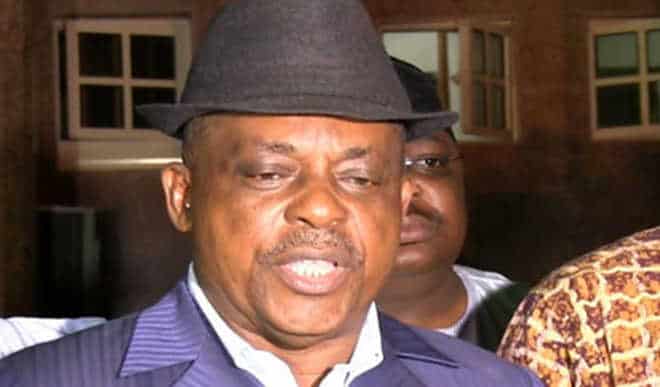 The proposed hearing  date on Prince Uche Secondus, People's Democratic Party (PDP) National Chairman's N1.5B suit over his inclusion in the looters list by Minister Of Information, Lai Mohammed has been adjourned by a High court in Rivers state.
The presiding Chief judge of Rivers,Justice Adama Iyayi-Lamikanra adjusted the date to June 26 due to the absence of none of the defendants, FG, Lai Mohammed and Vintage Press today.
Justice Iyayi-Lamikanra, on April 23, had in response to Secondus motion for interlocutory injunction, restrained the defendants in Suit PHC/1013/2018 from further mention of the PDP National Chairman's name in the looters' list recently published by the government.
Secondus, the plaintiff in a suit filed against Federal Government's Lai Mohammed and is asking for a sum of N1.5 billion dammages for alleged libel against his personality when the looters list was published.
Listing him, he lamented in his suit, as a looter who collected N200 million on Feb. 19, 2015 from the Office of the National Security Adviser has libelously injured his person and reputation.
The judge also ordered that the hearing notice be served the respondents by the plaintiff.
Plaintiff's counsel, Emeka Etiaba (SAN), on the shift in hearing date, said, "Unfortunately, we were not told in advance that the court will not sit. We are here. But much as no party was informed that the court will not sit; none of the defendants is in court.
"This matter was filed on 6th of April, 2018 and on 14th April, defendants were all served by substituted means. Two months or more now, they have not put up appearance, file any defence, where they published that Secondus looted this country's economy.
"They have not bothered to come to court to demonstrate how he looted N250 million from government coffers. There is no reason they should not be in court. No individual is above the law. The matter has been adjourned to the 26th of June.
"On the next adjourned date, if they are not in court, we will move the court to hear the suit. We will not be waiting for defendants who are not willing to submit themselves to the discipline of the judiciary".