Fayose Accuses FG, APC Of Alleged Plan To Rig Ekiti Governorship Election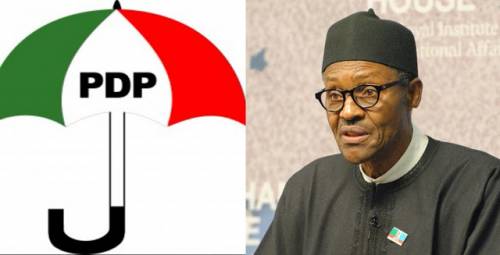 Ekiti State Governor, Ayodele Fayose, has accused the All Progressives Congress  and the Federal Government of plans to rig the July 14 Ekiti governorship election.
Naija News learnt that Fayose stated this while hosting the Political/Economic Chief, United States Consulate, Mr. Osman Tat, during a courtesy visit to Ado Ekiti.
He told the envoy of plans by the All Progressives Congress-led government to use its federal might to rig the election.
"They are planning to rig the election because they know that in a transparent and credible election, the APC cannot win in Ekiti State.
" We are popular and our party, the Peoples Democratic Party, is popular because of our performance in government and my brand of politics.
"In 2014, I defeated Dr Kayode Fayemi, even as he was the sitting governor then. The United States applauded the 2014 election and even recommended it as a benchmark for the 2015 general elections because it was transparent and devoid of violence and intimidation of voters. The letter written by the American Government on the election is still here for the records.
"Ekiti people will resist rigging. They will resist the Federal Government or the Independent National Electoral Commission rubbishing their votes. The people's might is greater and more potent than the federal might," he said.
The national chairman of the party, Uche Secondus, has also promised to resist vehemently any attempt by the ruling All Progressives Congress and the Independent National Electoral Commission to rig the July 14 governorship election in Ekiti State.
Mr Secondus who stated this at the flag off of the party's local government election campaign in Port Harcourt, Rivers State also warn the Federal government that a rigging attempt on the election would spell serious crisis that could threaten the unity of the country.
We warn that if you attempt to rig Ekiti, it will be a recipe for crisis and we don't know whether there will be Nigeria or not," said Mr Secondus.
"We are bold to say it because you cannot take the peoples rights, you cannot deny them of their votes and we are saying and we want APC to say the same that it will be one man, one vote, one woman, one vote, one youth, one vote."
"We will never allow an evil individual to destroy this nation or to destroy our state. If you like wait for us, we refuse to be intimidated. We are marching forward to win the election at the national level in 2019," he said.
He commended the security men and women for protecting lives and property, but urged them not to be deceived or used to manipulate the election.