Fayemi Will Suffer Another Major Defeat On July 14 – Fayose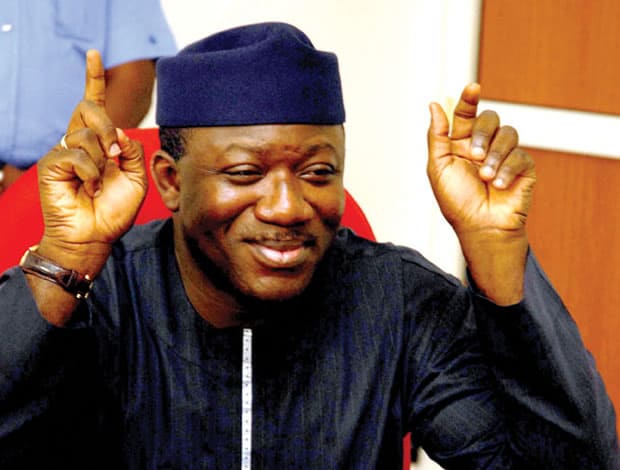 Governor Of Ekiti, Ayodele Fayose, Describes Fayemi's Victory As A Flame That Will Be Quenched By July 14
Governor of Ekiti State, Ayodele Fayose  has described the victory of Dr Kayode Fayemi's at the primary polls on Saturday as a flame that will be quenched on July 14.
Fayose was reacting to President Muhammadu Buhari  congratulatory message to  the governorship candidate of the All Progressives Congress (APC) .
Buhari had on Sunday in a statement by his spokesman, Garba Shehu congratulated Fayemi for winning the APC ticket to contest the July 14, 2018 governorship elections saying he (the president) "believes that Fayemi's track record in the state as a reformist, with a penchant for building educational infrastructure and promoting the welfare of the ordinary people, will bolster his chances at the forthcoming polls".
The President notes that the successful primaries in the state, with more than 30 aspirants, further validates the credentials of the APC on internal democracy, and its preparedness to take the country to another level of development.
Reacting, Fayose who had earlier mocked Fayemi over his victory took to his Twitter page describing the president's commendation as 'day-dreaming'
Fayose urged the president to give Fayemi a position in FEC rather than congratulate him as his ambition to become Ekiti governor was dead on arrival.
See Tweets:
I thank the APC for giving Ekiti people a candidate they love to vote against at all times. Fayemi should not celebrate this pyrrhic victory yet because it is nothing but a flame that will be quenched on July 14. He should expect to suffer worse defeat compared to that of 2014.

— Peter Ayodele Fayose (@GovAyoFayose) May 12, 2018
President Buhari congratulating Fayemi on his emergence as APC candidate is like day-dreaming.He will surfer another major defeat on July 14.Rather than congratulating him,the President should reserve his seat at the FEC because this desperation to be Ekiti gov is dead on arrival

— Peter Ayodele Fayose (@GovAyoFayose) May 14, 2018