I Didn't Meet One Official Car, Property In Benue Govt House – Alia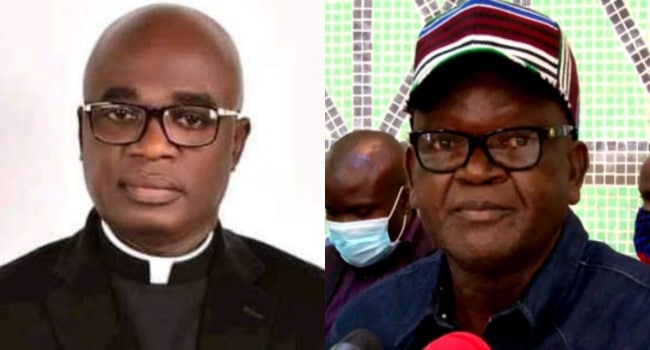 The Benue State Governor, Rev. Father Hyacinth Alia has claimed that the immediate past administration of Samuel Ortom did not leave any single official car for him to use.
Alia, in a statement released on Thursday by his spokesman, Tersoo Kula, also alleged that the Ortom government massively looted and carted away properties from the Government House.
The governor stated that he inherited an empty treasury and a whooping huge debt profile of N187.56 billion accompanied by accumulated months of unpaid salaries and pensions.
Alia was responding to calls by the Peoples Democratic Party (PDP) in the state that he should reverse his decision that led to the nullification of all last-minute appointments made by his predecessor.
He said: "The PDP looted Government House to a point that the new government under governor Hyacinth Alia, met no single car or truck in government house. The governor's visits to agencies and parastatals have uncovered the highest level of rot ever witnessed in the history of Benue State.
"The same party that left an empty treasury in the state and ripped off the economic system of the people is now claiming to be standing on high moral grounds to offer untenable and ill-motivated criticisms to undermine the collective wisdom of the Benue populace."
The Benue governor regretted that Ortom left the government owing salary arrears of civil servants, arguing that the PDP should apologize to the people of the state.
He added: "The PDP is not ignorant of the fact that all the appointments and recruitments that were carried out by former governor Samuel Ortom at the twilight of his administration were not done in good faith.
"Is it not curious that for more than seven years, Ortom could not employ indigents of the state into the civil service, until a few months before the expiration of his tenure?
"It is even more ironic that the PDP, which is now a crying wolf, left the government house owing salaries of Benue Civil Servants from December 2022 to May 2023. The same PDP administration left salary arrears of five months for state government workers in 2017; 10 months for local government workers in the same year, 2017. Under this same PDP government, pensions were last paid in the year 2021."