Reactions As Manchester City Beat Man United To Win FA Cup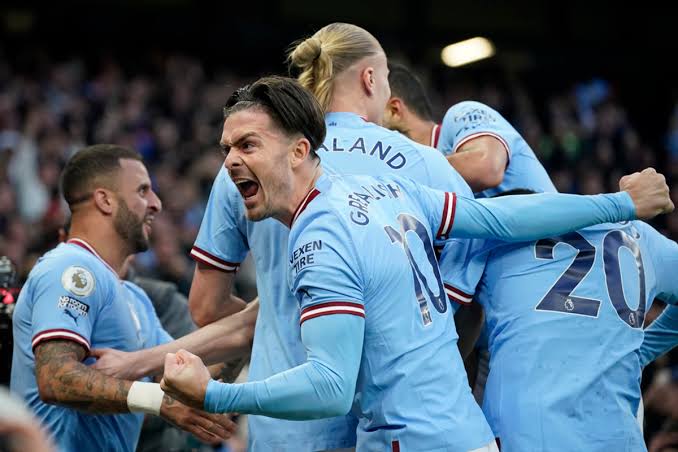 Manchester City have painted the city of Manchester blue as they continued with their push to finish the 2022-2023 season with a historic treble.
Earlier this evening, Manchester United and their city rivals Manchester City met at Wembley Stadium for the first English FA Cup final between the clubs.
As anticipated, it was a thrilling encounter that almost looked like an end-to-end battle that only recorded three goals within 90 minutes.
Coach Pep Guardiola and his boys who were just crowned the Premier League champions for the third time in a row, started the game like a house on fire.
However, it was not the usual suspect, Erling Haaland, who has scored 51 goals this season, that opened the scoring, it was 32-year-old German midfielder İlkay Gündoğan that opened the scoring as early as in the first minute of the encounter.
Gundogan scored a volley from 20 yards out after taking charge of De Bruyne's long-range pass.
However, Manchester City's fans had to switch mood in the 30th minute when the VAR ruled that Wan-Bissaka's header touched Grealish's hand in City's penalty box in the 29th minute.
Bruno Fernandez stepped up to score the equalizer from the penalty box in the 30th minute. Afterward, both sides couldn't breach the defensive line as the first half ended in a 1-1 draw.
In the second half, both sides played more cautiously but Manchester City had the better of United in the 51st minute thanks to Gündoğan's strike.
The two goals from Gündoğan were enough to give coach Pep Guardiola and his team their second title of the season as they prepare for the Champions League final against Inter Milan on June 10.
Reaction as Manchester City Win 2023 FA Cup:
After Manchester City beat Manchester United 2-1 to win the FA Cup, social media was awash with a series of reactions from football enthusiasts.
@WelBeast wrote: "The most beautiful thing about City winning the FA Cup today is that after Manchester United twerked for Manchester City all season, City have beaten them in a Cup final on the way to securing the treble."
@PaddyArsenal tweeted after the game: "Why are Man United fans upset? You've been supporting Man City all season".
@ars_informer tweeted: "Arsenal will face Man City for the community shield. Let's do it again boys, we need some payback".
@chameleon_fr tweeted: "Pep Guardiola has won 13 trophies for man city in the space of 7yrs. We can all agree he's the greatest coach of All time."
@abazwhyllzz wrote, "Arsenal fans were Celebrating until they remembered that Man City is waiting for them in the Community Shield.."
@PrimeCR7i tweeted: "Ten Hag: "These players will defeat man city next weak" Messi: "champions league will come back to camp nou" Same vibes. They think they are Ronaldo"
@AFC_Fazeel wrote: "Arteta's first year: FA CupA🏆, Community shield🏆
"Ten Hag first year: Energy drink cup"🏆