Japa: Bishop Kukah Sends Message To Incoming Tinubu Administration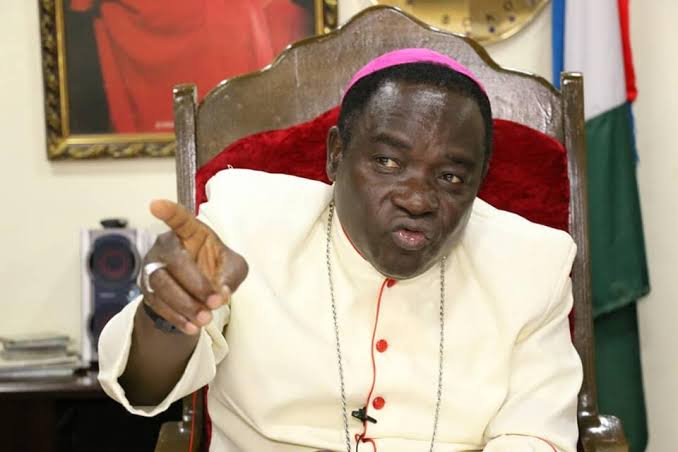 The Catholic Bishop of Sokoto Diocese, Matthew Kukah, has admonished the incoming administration to make the country livable and bearable for the average Nigerian.
This is as the clergyman said he is not bothered by the surge in the number of youths that are seeking greener pastures outside the shores of the country.
Naija News reports that Kukah said this during his remarks at the 2023 presidential inauguration lecture held in Abuja on Saturday, noting that more incidences of brain drain popularly known as 'japa' should be expected.
He, however, urged the Vice President-elect, Kashim Shettima, who represented President-elect Bola Tinubu at the event that his government should make life favourable for Nigerians abroad to feel comfortable coming back home.
He said, "The young Nigerians who are leaving our country, I always say to them, 'No, I'm not worried. Really, I'm not worried. Let them go, it's for the good of the country. The challenge for us as Africans is to think the way the Asians have thought.
"That is, you go to Europe, you go to America, with a purpose, but that purpose means coming back to develop your country. But it also means that that country must create an environment in which you can feel confident to come and present the gift that God has given you.
"I have two young men. They are in America; they just finished from a prestigious university. I said, 'When are you coming home?' They said, 'Bishop, coming home to do what?' I said, 'No, coming home to….
 ''We don't have an uncle who is a senator; we don't have anybody in government. What are we coming home to do?'
"So, Mr Vice President-elect, the challenge for you is to make this country believable, liveable, credible, so that all of us, together, can stand in one tent and build a great nation."
Speaking further, Kukah recalled his time as a student in the United States of America, and how he was offered permanent residence after preaching at a church.
The clergy pointed out that "When I say, 'Okay, it may not be working, but this is one of the most beautiful countries in the world,' I'm not being flippant.
"The parish priest called me and said, 'Listen, you speak with such eloquence. I like you; we'll get you a green card. You can settle here in America.
"And I looked at him. I said, 'You know, this God is a wonderful God. You're giving me a green card. My passport is actually a green passport. So, what am I doing with a green card?'"
Kukah, therefore, advised the leaders of the incoming administration to ensure citizens can have a sense of belonging.