Reactions As Police Give Update On Deborah Samuel's Killers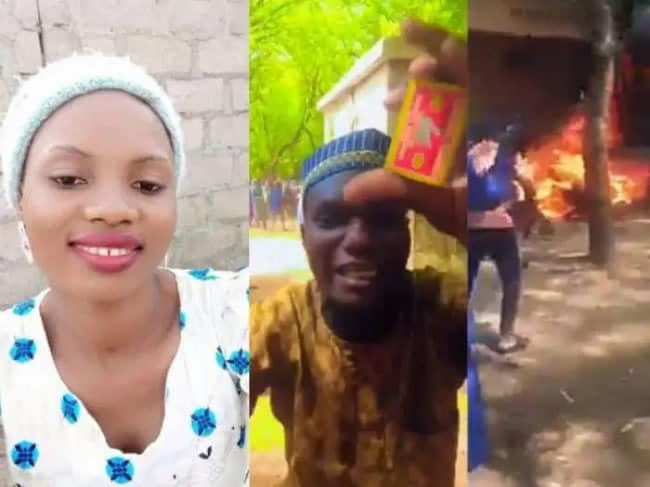 The Nigeria Police Force has, through Force Public Relations Officer (FPRO), Force Headquarters, Abuja, Prince Olumuyiwa Adejobi, given an update on the situation of those who killed Deborah Samuel, a young lady in Sokoto State.
Naija News recalls that Samuel was brutally beaten and burnt to death last year by Muslim extremists over alleged blasphemy against Islam's Prophet Muhammad.
The young Christian lady was in her second year at the Shehu Shagari College of Education, Sokoto State, when a mob of Muslim students killed her after being accused of blasphemy.
A year after the incident, the FPRO, who was responding to tweeps on Twitter, affirmed that two suspects, Bilyaminu Aliyu and Aminu Hukunci, were arrested by the police and subsequently arraigned on 16th May 2022, at the Magistrate Court Gwiwa, Sokoto State.
"DEBORAH: Update on suspects arrested from the legal department Sokoto*
The suspects:
1. Bilyaminu Aliyu
2. Aminu Hukunchi
"Who are also students of the college were arrested and arraigned on Monday 16/05/2022 at *Chief Magistrate Court Gwiwa, Sokoto," Adejobi wrote on Twitter.
Though he refused to release further details about the investigation and if the suspects had been convicted, Adejobi's update corresponded with the spokesperson of the Sokoto State Police Command, Sanusi Abubakar, who disclosed last year that those arrested and arraigned were not the prime suspects but among those who organized the violent riot.
Abubakar had assured that efforts are being intensified to arrest the prime suspects. However, the force has not given much update since the incident.
However, some Nigerians on social media have expressed concerns over the police inaction and sketchy update on Samuel's killers.
See some of the reactions below after the FPRO's sketchy update on the microblogging platform.
@iammykedon – "Sir, I don't think it's bad if you put some pictures of them being arrested online for people to see.. they killed that girl while they recording !!people are angry and we need proof for everything.
@KINGSEUSTACE – "And charged for? Were they charged for murder? Imagine charging Femi Kuti for "quarrelling in public", if there is any offence like that.
@GeorgeAnyiam – "Just 2 people from that video we saw?
@thezenmonsta – "The magistrate court has no jurisdiction for capital offences. You are just buying time, we all know you are not going to prosecute.
@AkejuOlusegun1 – "Arraigned them at magistrate court for murder for offence of that class? If you use magistrate hold them in custody, when will the matter be properly taken to High court that has jurisdiction? 16,05,22 is a year already. Can u see u have just shown nothing is actually being done.
@mr_shi2 – "I'm not even trolling or trying to be funny.
So it's been a year & the only update is that they were arrested last year? Why should people believe in the justice system? That girl was murdered & proving it in court shouldn't be difficult.
@ChidiNdumnego – "If you're not charging them with culpable homicide punishable with death, you're not serious; if you are, you're not serious because you very well know that the Magistrate Court lacks jurisdiction to try that offence. When will our police be responsible and professional?!
@proterapy – "They were arrested and arraigned since last year and the public is just being notified 1 year after. Don't be surprise they were sentenced to 6 months and are probably done serving.
@Gospel_rx – "This is not an update, there is nothing to back this so-called update. For all I care, its just a tarse message to calm those who are calling you out on this matter. Why have there been radio silence on this matter since it happened? Last time, police said suspects were at large."