We Had S3x Only Three Times – Says Man Who Impregnated His 18-Year-Old Daughter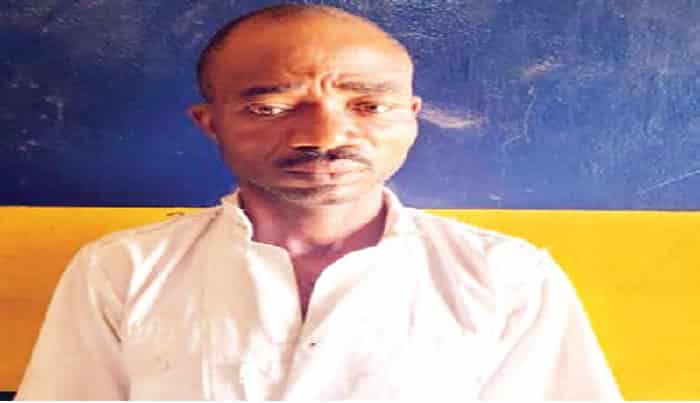 An Ogun State man, Biodun Oladapo, has confessed his sexual relationship with his biological daughter following his arrest by the state command of the Nigeria Police Force.
The 43-year-old man was apprehended for impregnating his 18-year-old daughter with the child's mother far away from the resident.
Narrating the Genesis of the embarrassing and disgusting event, Oladapo told journalists that he serves as a Provost of the So-safe Corps and resides in Mowe, in Ogun state.
The school leaving certificate holder noted that he was never married. According to him, he has only a 'baby mama'.
"She was my girlfriend when she conceived and had the child. Well, it's not like I've married her. She was like my girlfriend and I impregnated her and she left," Oladapo narrated while explaining his relationship with the child's mother.
The suspect explained that he had never lived with the mother of his child. That he was thinking of marrying another wife because he doesn't have a wife at the moment.
Oladapo told reporters that he had been separated from the child's mother for 18 years now.
"The child used to live with her mother and I stayed in Ojota. But I used to go back home on weekends. So, I just visited them but we never lived together from the start," he said.
While explaining why he was cohabiting with the child while her mother is away, the man said the girl started living with him in December 2021 after she insisted they should live together.
According to him, her mother tried to stop her but she did not listen.
"My daughter came to my house. She has been living with me for a year and some months now.
"She did not complete her secondary school education. She dropped out of school saying she could not comprehend what she was being taught in school and insisted she would learn some skills. With that, I enrolled her in a place to learn fashion design and she started learning. She started learning the skill about a year ago," he said.
My Daughter Likes Cuddling And Hugs Me
While describing his daughter to journalists, Oladapo said the teenager loves to hug him. According to him, she loves hugs and most times cuddles him when they are in bed. He also acknowledged that the girl used to kneel to greet him whenever he returned home from work.
I Know It Is Wrong For Us To Sleep On The Same Bed
The culprit admits that it was wrong for him to cohabit with his daughter. He, however, claimed that before the pregnancy issue, he slept on the same bed with her with a free mind.
Oladapo said his mother had shared a revelation from a pastor with him saying that he should return the child to her mother, stating that she was not an ordinary child.
He claimed to have also discovered that she is not ordinary but believed that if she went to church instead of staying elsewhere, she would receive salvation.
"Even those that come to my place for prayer and the church I attend confirmed that the child was not an ordinary one and I was asked to return her to her mother. So, I called her mother and she said there was no space or place I could keep the child. Since I could not chase my daughter away from my house, I told her that she could stay till she completed her training and move on with her life," Oladapo explained.
The Pregnancy
Speaking on how his daughter got pregnant, Oladapo swear that he didn't sleep with her willingly. He said he made several attempts to send her away from his house but that her mother didn't receive her and as the father, he accommodated her.
He said: "One fateful day, when she got back from work, she came to me and started seducing me and I could not tell what was happening to me anymore. I believe it was not ordinary because the girl is not an ordinary person. It was after we were done that I realised what had been done.
"I took a step by wanting to let her out of my house, but her mother didn't accept her and the child said she would not live with her mother. I cannot recall how it happened the second time. What I know is that I was sleeping when she came on top of me and we did it and it is the same with the other times. I didn't use a condom, I didn't even know when everything happened."
We Had Sex Only Three To Four Times
Confessing to having sex with the teenager, Oladapo admitted that they only slept three to four times.
"I've been avoiding her and I work day and night at my workplace, to avoid her.
When asked about the reaction of his daughter the first time they slept, Oladapo said: "After she was done with her rubbish, she apologised. Whenever I asked her why she did that, she said she did not know what to do any time she was in the mood.
"The last time we did it was around June or September last year (2022). No one has ever caught us in the act. We live in a self-contained apartment, so nobody knew what happened," he said.
When asked if he took any step when he learned that she is not ordinary, the suspect said: "I wanted to talk to someone about it, but I did not want to be embarrassed about it? I thought no one would believe me if I exposed it; they would think I was just lying. Since we lived together, I have been avoiding her because I know she is not an ordinary being. I started doing day and night shifts just to avoid her. I only went home to change my clothes and I returned to work pending the time she would become normal.
"I also told her to go to the church in my area for deliverance. A woman in the church told her to fast and pray for three days. The woman assured me that the Lord would intervene and that she would be okay. Despite the assurance, I still tried to avoid her, and with the look of things it looked like the girl had a mission to accomplish in her life."
My Daughter Seduced Me
Oladapo put the blame on his daughter saying she seduced him and after that, "I don't know what happens. But after everything is done, I return to my senses. When I told her mother to come and take her child, the woman said she was also my child and she hung up on me and I was wondering where I could take this girl because it was obvious that she wanted to implicate me. When her mother refused to take her back, I spent two to three days without coming home because I attend church programmes.
"I also told her (my daughter) to get herself a boyfriend because I believed she would shift her attention to him but she told me she had a boyfriend and his name is Michael."
According to him, they discovered she was pregnant in December (2022) and as a father, he asked her who impregnated her and she told him that Michael was responsible.
"The day my friend and some other people went to meet him and ask whether he had slept with my daughter before, he confirmed that he slept with the girl in November. I called to meet the man and his father to know how to resolve the matter, even if he was not ready for marriage but the man and his son didn't show up; only his mother showed concern.
"If I knew her mother's house, I would have taken her there. So I called my daughter and asked her if the man was truly responsible for the pregnancy, and she said yes. Unknown to me, my daughter told Michael's family that I was responsible for the pregnancy, but whenever I asked the girl who was responsible for it, she said it was Michael. Since then, I knew that the girl has a particular mission for my life. And my daughter told them that I threatened to kill her if she told anyone I was responsible," the suspect explained.
I Was Surprised About Her Pregnancy
Oladapo denied being responsible for the pregnancy of his daughter despite sleeping with her for over three times.
He said: "I was fighting against what isn't right before my child told them something else. Before I knew it, she told them I was responsible for it. I was more surprised when we got to the (police) station and she said I got her pregnant and that Michael never slept with her. I didn't threaten her at all.
"She's five months and some weeks pregnant. I don't think I am responsible for the pregnancy because, before November (2022), I had been avoiding her and did not sleep in the house. They should go for a DNA test, and if the result says I am responsible for the pregnancy, I don't know what I will do. When the girl has said everywhere in public that I'm responsible for it, there's nothing I can do about it again."
Speaking about his arrest by the police, Oladapo said: "I got to the station on Tuesday. I was called to report to the station and I went willingly. I regretted my actions because if I had listened to people that told me to return the child to her mother, all this wouldn't have happened. I'm regretting it. Well, when she gives birth, it is fine. We cannot abandon her and her baby. I will take responsibility. The government should help me because I seriously don't know what's going on. It should have mercy on me," Oladapo told The PUNCH.