2023: Peter Obi Wants To Re-Write Nigeria's History – Says APC Chieftain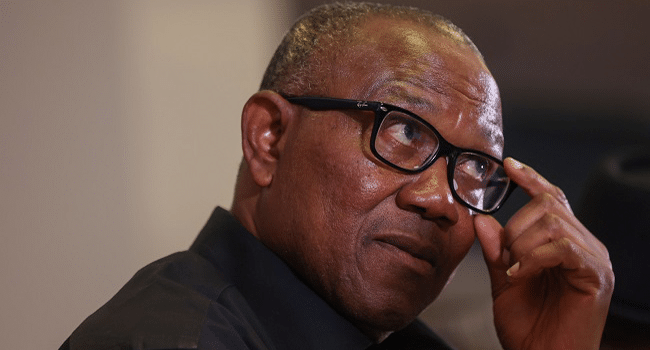 Former Minister of Aviation and a chieftain of the ruling All Progressives Congress (APC), Femi Fani-Kayode, has said that Labour Party candidate in the just concluded presidential election, Peter Obi and his running mate, Yusuf Datti Baba-Ahmed, wanted to re-write the country's history with their actions after the February 25th poll.
Naija News reports that Obi came third in the 2023 presidential race behind second place Atiku Abubakar of the Peoples Democratic Party (PDP) and Bola Tinubu of the APC, who was declared the poll's winner by the Independent National Electoral Commission (INEC).
Reacting to the Labour Party candidate's rejection of the presidential election result outcome, Fani-Kayode, on Friday (today), said Obi and his running mate were full of bitterness and could not accept defeat; hence they want to re-write Nigeria's history.
Fani-Kayode said the duo and their party want to impose their will on Nigerians who according to him, gave their mandate to Tinubu at the poll.
The APC chieftain further lampooned Obi and Yusuf Datti, saying they wanted to destroy Nigeria's culture and desecrate its values using religion and ethnicity as their tools.
"They want to throw the baby out with the bath water. They want to thwart the will of the Nigerian people and rob us of what is lawfully and legitimately ours.
"Whilst we seek unity, love, peaceful co-existence and mutual respect, they want division, war, panic, fear, chaos, subversion and destabilisation, and they indulge in the most despicable and foul degree of denigration, subterfuge and malevolence against the Nigerian people and state that we have ever witnessed in our entire history.
"They are furious and bitter with the outcome of the election, and they just cannot live with it," Fani-Kayode wrote on his Twitter page.
He added: "They do not have the stomach, the courage, the honour, the grace, the pedigree or the fortitude to accept defeat.
"Simply put they want to wipe out the entire system and existing status quo, impose their will, destroy everything that is wholesome and good in our nation, re-write our history, re-define our heritage, destroy our culture, desecrate our values, use religion and ethnicity to achieve power and forge Nigeria in their own angry, bellicose, frustrated and jaundiced image.
"We must resist them with every fibre of our being and defend our hard-earned democracy, our civil liberties, our human rights, our civic institutions, our way of life, our religious and ethnic diversity and heritage and the peace of our land otherwise, as a nation, we will be lost forever.
"Nigeria must never fall into the hands of those who seek to destroy her from within and ultimately seek to dismember and divide her."
The former Minister insisted that "Nigeria must be at peace. Nigeria must flourish and excel. Nigeria must stand tall, strong and firm and reaffirm its enviable position as one nation under God."