Why 'Villa Cabal' Are Working Against Tinubu's Victory – APC PCC Director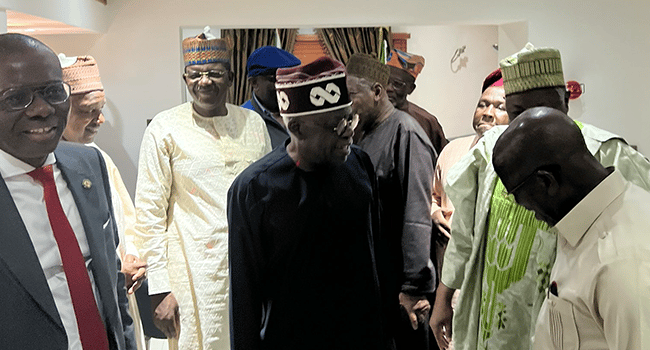 The Director of Special Duties II at the All Progressives Congress (APC) Presidential Campaign Council (PCC), Ayiri Emami, has revealed that the "Villa Cabal" wants to install someone they can manipulate as President Muhammadu Buhari's successor.
The Delta State APC chieftain stated this while confirming claims by Kaduna State Governor Nasir El-Rufai that some elements in the Presidential Villa were working with fifth columnists to stop the APC presidential candidate, Asiwaju Bola Tinubu, from winning the upcoming presidential election.
Emami told Vanguard that the Aso Rock cabals do not want Tinubu to succeed Buhari because he understands the system of governance.
He said, "Let me use myself as an example. Even in our small community, if you know your right and you know what you are doing, and you want to lead, many people will come after you because a lot of people don't want somebody who understands the system to lead because all they know is how to manipulate.
"Asiwaju knows the inner workings of governance. I am not saying that he knows it all. So, you will see every day, all kinds of battles or blackmail to stop him, and that is how I see Asiwaju. He knows a lot about governance. He knows what to do to make sure that this place works. And if it works, there are persons there doing dubious things who would not be able to do them again. So, if such a person is to take over, it won't be an easy battle because they know that he knows the inner workings of government and can't be manipulated."
He also stated that the naira swap policy did not enjoy the backing of various stakeholders of the ruling party.
"They are not policies of the APC at all. Because if they were the policies of the APC, everybody would be involved. These are policies of a few persons to sabotage Tinubu. Why introduce such policies during the election?" he asked.
Speaking further, Emami stated that Buhari's perceived lukewarm attitude to Tinubu's campaign might just be his 'style.'
He expressed confidence that Buhari is solidly behind the former Lagos State governor, warning elements working against Tinubu to stand back.
The APC chieftain said: "To me, even his own election, it was other people who were actually championing his campaign. So, I just feel that that is his normal style. All humans are not the same. Tinubu is a workaholic, during the 2014/2015, he did that. At a time, even during the primary, somebody who was contesting, like President Muhammadu Buhari said I don't have money to give to the delegates. For example, if he was not the one contesting, people would have said this man is a wicked man. Then, he was the one contesting and he could make that kind of statement in the public while canvassing for votes at the campaign ground.
To me, it is his lifestyle, even if he is supporting you, he is not the type that comes out to the public and say it. But what we are trying to see is that those saboteurs within should please retreat. Let us go into a proper contest. I don't see any problem. To me, I know that Buhari is supporting us because he had said it publicly and that is one Muslim man that I believe that once he swears by the Quran, he stands by it."