Wike vs Ayu: 'Atiku Still Working To Reconcile With Five Aggrieved PDP Governors'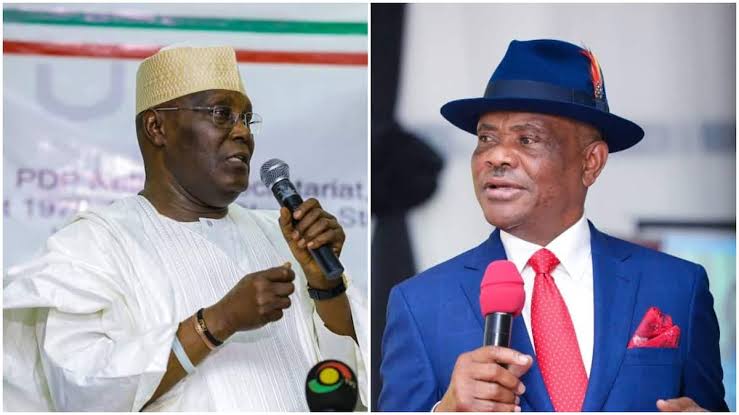 The Presidential Candidate of the Peoples Democratic Party (PDP), Atiku Abubakar, remains committed to efforts to resolve issues in the opposition party.
Naija News reports that Governors Nyesom Wike, Seyi Makinde, Samuel Ortom, Okezie Ikpeazu, and Ifeanyi Ugwuanyi of Rivers, Oyo, Benue, Abia, and Enugu States respectively had pulled out of the PDP presidential campaign.
The aggrieved governors had insisted on the removal or resignation of the party's national chairman, Dr. Iyorchia Ayu, before campaigning for Atiku.
The main opposition party has been unable to resolve the crisis with both camps engaging in a media war.
Speaking to Saturday Sun, Atiku's media aide, Paul Ibe, disclosed that there are different levels of engagement to ensure that all leaders of the PDP close rank ahead of the 2023 polls.
According to him, several leaders of the party, as well as other well-meaning Nigerians, who understand the significance of the 2023 general elections, are working round the clock to broker a truce among feuding members of the party.
Paul Ibe, however, noted that though the campaign train has taken off, the governors and other aggrieved members of the party are always welcome.
He explained: "He will never shut the door. The Atiku Abubakar that I know, his politics are of no bitterness. The doors will never be shut. Our expectation is that along the line, some persons will come to the realisation of what the 2023 is all about.
"They will come to the point of understanding that this is the most consequential election in our democratic journey; the most consequential; the most important. This is because it is an election that is going to set the pace for the recovery and restoration of Nigeria. That is how important it is.
"So every process to ensure that every person is on board will be pursued. All options are on the table. There are different levels of engagement that is ongoing. There are persons on both sides, men and women; well-meaning Nigerians, some of them are not even members of the PDP who understands clearly what this election is all about. This election is to serve Nigeria and save our people."