ISWAP Terrorists Chase Soldiers, Residents Out Of Borno Village, Burn Military Base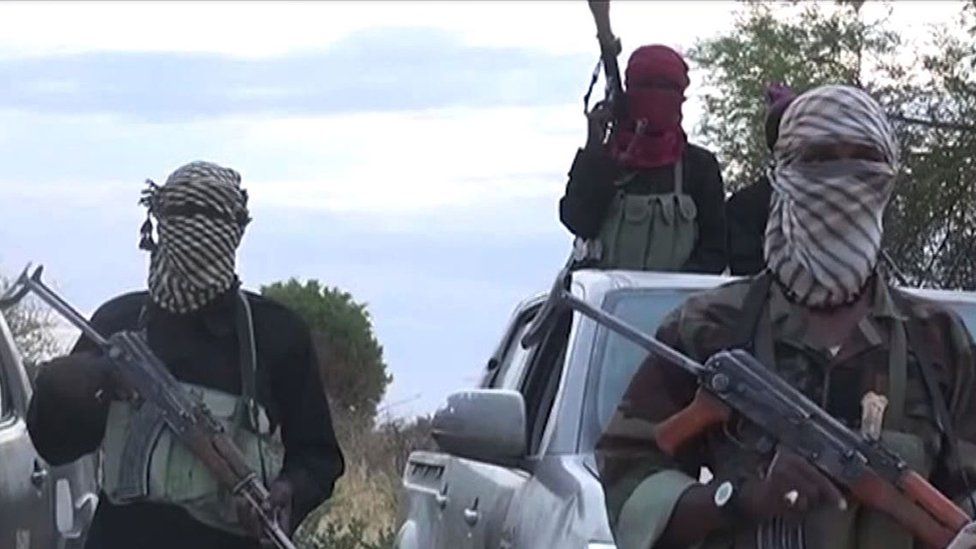 Terrorists loyal to the Islamic State of West African Province (ISWAP) on Monday, allegedly launched a surprise attack on Rann, a community in Kala-Balge local government area of Borno State.
The ISWAP fighters were said to have stormed the area on Monday and took over the community after sporadically shooting into the air to gain entrance.
Rann is understood to be the headquarters of Kala-Balge local government area and just about 350km from Maiduguri, the state capital.
Upon arrival in Rann, the ISWAP terrorists reportedly chased out the residents as well as the few security forces they met on ground according to sources that witnessed the incident.
They were said to have also gone ahead to burn military vehicles as well as the military base in the area.
"At about 0130hrs, suspected ISWAP fighters in large numbers attacked and dislodged Government forces in Rann town, the Administrative HQ of Kala Balge LGA. The insurgents are said to have gained access into the main town shooting sporadically. No details yet but will be communicated once received." the source quoted by Daily Post said.
The source added that the terrorists are allowing civilians to move but did not extend the same courtesy to security operatives and aid workers caught in their web.
"The insurgents were said to have taken over control of the town. They are allowing civilians out of the community. Humanitarians are reportedly trapped while others are hibernating outside the community."
"They burnt down the military base and some vehicles. The soldiers abandoned their bases following more superior firepower from the insurgents. For now, we do not know what is going on in Rann as we are able to find an escape route along with some security operatives," an aid worker with one of the NGO's revealed.
Meanwhile, the Nigerian military has asked residents of Plateau State not to listen to the call by the State Assembly to take up arms and defend themselves against bandit terrorists.
Following the recent killings in the state, the assembly had asked residents to pick up arms and defend themselves against bandit terrorists.
Speaking at a press conference held in Jos, Chairman of House of Committee on Information, Philip Dasun, said the assembly condemned the barbaric and dastardly killings in the state.
But in a statement issued in Jos on Monday, media of the Special Task Force, Operation Safe Haven (OPSH), Maj. Ishaku Takwa berated the assembly for calling on residents to take up arms in the guise of self-defence.