Five Jailbreaks That Shook Nigerian Security Agencies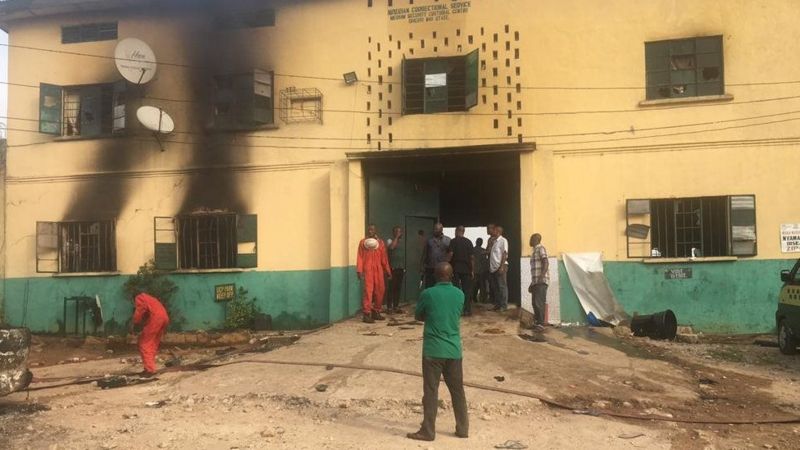 The attack on a correctional facility and Police Command Headquarters in Owerri in Imo State Capital on Monday by unidentified attackers added to the list of major attacks on correctional centres in Nigeria.
Witnesses disclosed that the attackers struck the prison and police HQ shortly after midnight, releasing over 1500 inmates.
On breaking into the prison facility with the aid of explosives and dynamite, the attackers told the inmates to go home.
A prison break is an unlawful act under Nigerian laws; below are some jailbreaks that shook the country.
1. Edo Prison Break
Hoodlums attacked correctional centres in Edo State during the #EndSARS protest in October 2020, with about 2000 inmates released.
One of the escaped inmates headed straight to the house of someone who testified against him and hacked the person to death.
2. Ikoyi Prison
Ikoyi Correctional centre in Lagos State was also attacked during the #ENDSARS protest but the officials were able to contain it.
It was reported that several prisoners were shot while they were trying to breach the gate of the prison. While no inmates escaped, a section of the Correctional Centre was set on fire in the jailbreak attempt.
3. Koton-Karfi (Kogi State)
The 2014 jailbreak in Koton-Karfi, Kogi state still remains one of most talked about in the country as 132 inmates were freed in the daring attack.
The prison break saw armed gunmen use dynamite to blast open the detention facility. A raid on the same facility in the year 2012 also led to the escape of over 100 inmates.
4. Minna
In June 2018, the then medium-security prison in Minna, Niger State was overrun by gun-wielding criminals. Over two hundred inmates reportedly escaped as the gunmen were reported to have used four vehicles and ordered residents in the area to go into their houses, presumably to avoid civilian casualties.
One of the officials who was resuming duty and the driver of the motorcycle he was on were murdered by the gunmen.
5. Bauchi Prison
The Bauchi prison break was an attack where members of the Boko Haram militant sect released 721 prisoners.
The attack occurred on 7 September 2010 and was carried out by approximately 50 gunmen. It was reported that out of the 721 prisoners who escaped, 150 were members of the Boko Haram sect.
Download NAIJA NEWS app: