Arteta Reveals Final Decision On Dumping Arsenal For Barcelona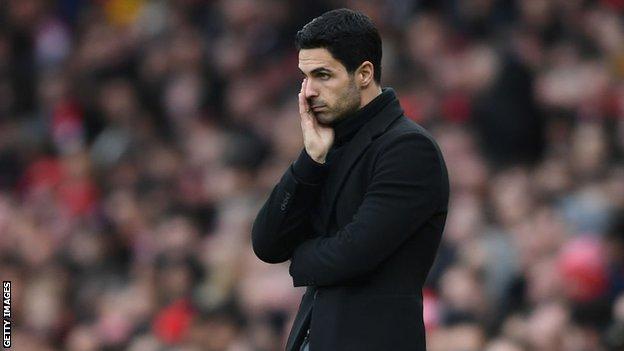 Arsenal manager, Mikel Arteta has debunked trending rumours linking him with taking over and replacing embattled Ronald Koeman as the new Barcelona coach.
The Spaniard while responding to the rumours, disclosed that he is very happy with the Gunners in London.
Though he acknowledged that Barcelona is a big club, he added that he is extremely happy at Arsenal, has a project going on and is focused on the work in London.
Responding to questions on Wednesday about reports linking him with the job as a Barcelona coach, Arteta said: "There is always going to be speculation when there are elections in Barcelona, it's a huge team.
"Obviously I was raised there as a player and there are always going to be links. But I am fully focused on the job that I have to do here, which we have a lot to do, and I am really enjoying it.
"Today and tomorrow, I am the manager of Arsenal football club and I am really enjoying it. And I want to do much better than what we have done so far.
"What I can tell you is I feel privileged to manage this football club and that I'm extremely happy."
Meanwhile, former President of Spanish football club, FC Barcelona, Josep Maria Bartomeu and his former advisor Jaume Masferrer have regained their freedom following initial arrests over the 'Barcagate scandal'.
Naija News reported on Monday, March 1 that Police raided offices at the club to effect the arrest of some individuals, of which Bartomeu was one.
However, hours later on Tuesday, the former club president and others were freed following their appearance before a judge investigating the scandal since last year.
"The two men, who were arrested on Monday, exercised their right not to speak, and the judge granted them conditional release while the investigation continues", the Barcelona court said in a statement.
Source: Naija News