Nigerian Air Force Bombs Boko Haram Hideout, Kills Several Terrorists In Borno State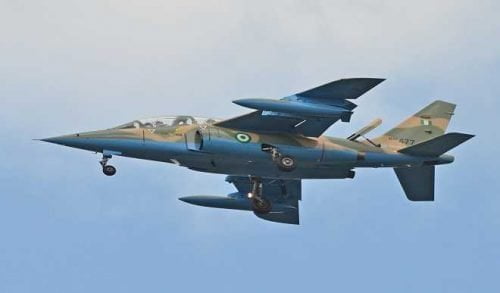 Troops of the Operation Lafiya Dole have successfully killed scores of Boko Haram terrorists in a fresh attack in Borno State.
The operation carried out on 1st January, 2021 occurred in Mana Waji area of Borno State where the terrorists were setting up a new camp, Naija News understands.
The Coordinator Defence Media Operations, Major-General John Enenche revealed that airstrikes from the troops delivered by the Nigerian Air Force (NAF) fighter jets and helicopter gunships destroyed the terrorists' hideout where they were stashing weapons and other logistics.
Enenche in his statement dated 2nd January, 2020 noted that "air interdiction missions being conducted by the Air Task Force of Operation LAFIYA DOLE have continued to deal decisive blows on terrorist elements operating in the North East Zone of the Country with the elimination of Boko Haram Terrorists (BHTs) and destruction of their structures and logistics store.
The latest of these was achieved yesterday, 1 January 2021, at MANA WAJI in Borno State where the BHTs set up a new settlement.
The air strikes, which were executed employing a force package of Nigerian Air Force (NAF) fighter jets and helicopter gunships, were carried out after series of aerial surveillance missions revealed that the new settlement was being used to store their weapons and logistics items and as well as plan and stage attacks.
On sighting the NAF aircraft, the insurgents were seen fleeing the location. Consequently, in a preemptive move, the NAF attack aircraft engaged the new location in successive passes, leading to the destruction of some of the structures and logistics stores. Several insurgents were also neutralized in the process.
Meanwhile, the Spiritual Director of the Adoration Ministries, Rev. Fr. Ejike Mbaka, has released new year prophecies, especially about President Muhammadu Buhari's government.
The cleric called on the All Progressives Congress government to urgently create jobs and innovate opportunities that would benefit Nigerians.
The cleric spoke during the 2020 edition of his popular annual December 31 Crossover Night tagged, 'Cornucopia of New Miracles from God".
According to Mbaka, he got a call to warn the Buhari government "to be very careful," and change its policies to accommodate the youths without politicising their condition.