Babachir Lawal Roasts Oshiomhole, Reveals Why He Was Removed As APC National Chairman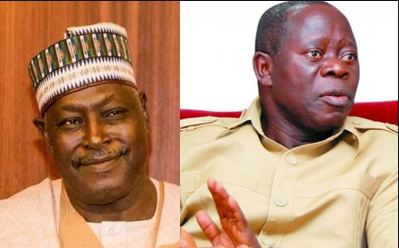 A former Secretary to the Government of the Federation (SGF), Babachir Lawal, has described former national chairman of the ruling All Progressives Congress (APC), Adams Oshiomhole as a "chairman that had deficiencies in management skills."
Naija News reports that Lawal who was sacked as SGF in October 2017 after he was indicted in N544m grass-cutting scandal, made this comment while speaking on the issue of division in the APC in an interview with The Punch.
When asked if with Oshiomhole and the APC's National Working Committee's removal and Bola Tinubu's alleged presidential ambitions if he thinks there could be divisions in the APC, Lawal replied: "First of all, I want to declare that I am a Tinubu man. There's no denying that there's a Tinubu factor in the APC. Just like I was a Buharist and every time Buhari's name was mentioned, I stood by it. But the crisis that started in the APC has nothing to do with 2023. It just had to do with the mismanagement of the party by those entrusted with that responsibility – namely the NWC.
"We had a chairman that had deficiencies in management skills in a political system where everybody needed to be carried along. As much as possible, he was like Alexander the Great. In almost every state, because of his approach to politics and conflict resolution, there was crisis, even in states where the APC had no governors. So it got to a stage where everybody was fed up with having Oshiomhole as the chairman. However, there were some people who wanted Oshiomhole out more than the rest and members of the APC knew they had ulterior motives that were not altruistic, but majorly selfish," he added.
Asked if the selfishness has anything to do with 2023, the former SGF said: "Yes, like some governors who wanted to go back to the old days when they would sit down and decide what would happen and who got what in the party. Many within the party felt that as a former governor and labour leader, he would be able to stand up to the governors. We also felt that coming to that position with some affluence; he would not sell our party for pecuniary considerations.
"But Oshiomhole, to some certain extent, did not give the governors one inch because he was autocratic or a dictator. And the governors who wanted to go back to running the party created a crisis. It got to a point when even those of us who ordinarily supported Oshiomhole later became disappointed because he so messed us up. But because those who wanted to throw him out were worse than him, we stood by him. They deployed all kinds of arsenal and Machiavellian tactics that no one after something good would be inclined to do. Some of us advocated for a 'soft landing' for him. Like every other human being, Oshiomhole had his weaknesses. He, however, started to change towards the end of his reign but it came too late. Those who wanted him out were more desperate. From my own observation, there is very little the national chairman of a party can do to impose a presidential candidate on their party," Lawal said.
Download NAIJA NEWS app: