Trump Reacts As US House Votes To Limit His Military Action Against Iran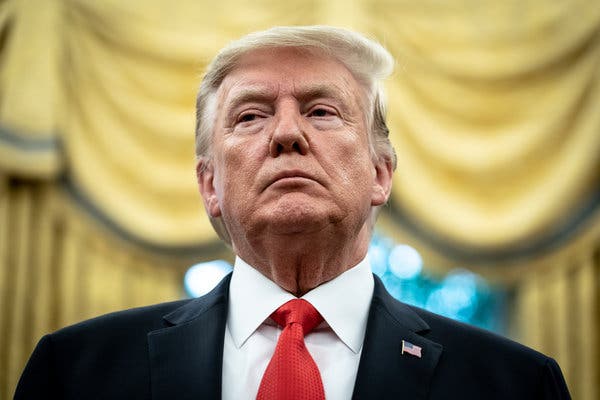 President Donald Trump has kicked against the decision of the United States House of Representatives to limit military action against Iran.
Naija News had reported earlier that the lawmakers sought to claw back congressional war powers from the White House on Thursday (Friday morning Nigerian time).
This online news platform understands that the Democrats introduced the non-binding resolution after President Trump's order to kill an Iranian commander, Qasem Soleimani.
Soleimani's murder, saw retaliatory missile strikes by the Islamic republic dramatically escalating tensions and raising fears of a war between the two foes.
Naija News reports that the House voted 224 to 194, which was largely along party lines.
It was learned that three members of Trump's Republican Party joined Democrats in approving the measure that demands the US President not to engage in military action against Iran unless authorized by Congress.
Speaking on Trump's military actions against Iran, House Speaker Nancy Pelosi told reporters Thursday that it has "real teeth" to check the president.
"We must keep the American people safe," Pelosi said on the House floor ahead of the vote.
"The House will pass a war powers resolution to limit the president's military actions regarding Iran. Congress is reassuring our long-established oversight responsibilities as we mandate that if no further congressional action is taken, the administration's military hostilities with regard to Iran must end."
Reacting to the decision of the US House, John Bolton, a former Assistant to the President for National Security Affairs (NSA), tweed: "The 1973 War Powers Resolution is unconstitutional. It reflects a fundamental misunderstanding of how the Constitution allocated foreign affairs authority between the President and Congress. The Resolution should be repealed."
Apparently pleased with the tweet, President Trump quoted it, and responded with: "Smart analysis, I fully agree!"
Smart analysis, I fully agree! https://t.co/0YMU7GunDt

— Donald J. Trump (@realDonaldTrump) January 9, 2020