Meghan Markle Is A Manipulative Woman – Daddy Freeze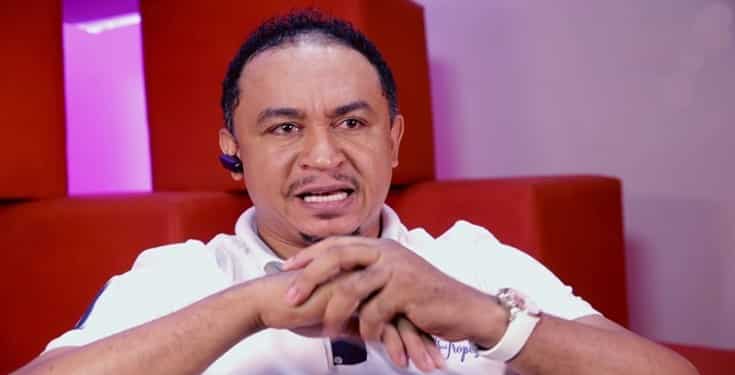 Controversial media personality, Daddy Freeze has shared his opinion regarding the move by the Duch and Duchess of England to relocate to Canada to work.
Recall, Naija News reported that Meghan Markle and Prince Harry are stepping down as seniors in the royal family.
Reacting through his Instagram page, Daddy Freeze said if he was in Prince Harry's shoes he would make the same decision.
He opined that Meghan is a bit manipulative while hoping that she loves him and doesn't turn the English Prince into a peasant.
He said "Poor boy is whipped! As in major 'P' whipped. It's something I can do for love o, let me not even lie. But the girl too no try, I see her as a tad manipulative. She should be careful not to tear him away from his roots and his family. Let's pray that she loves him and doesn't end up turning him from a prince into a peasant! ~FRZ"
This isn't the first time Meghan Markle is facing such accusations.
Earlier, Naija News reported that her estranged father, Thomas Markle, expressed his disappointment in her and her decisions.
Markle's relationship with his daughter had hit the rock several years before she eventually settled down with Prince Harry in 2018.
Just yesterday, Piers Morgan, with whom she once had a rosy relationship, turned bitter came out to reveal why their relationship turned sour.
In a post on Instagram, Morgan wrote " I've made no secret of my dislike for, and distrust of Meghan.
We were friends for a while, or I thought we were. She certainly told the world we were publicly posted tweets(now deleted) before most people in Britain had ever heard of her, and while she was asking me in my local pub for media advice.
But from the moment she met Prince Harry, I was discarded faster than a piece of chewing gum stuck to the bottom of her Louboutin heels.
For a while, I Continued supporting her in public, refusing o believe someone who seemed so nice and normal could be quite that calculating and ruthless.
But I never heard from her again, and when I saw her do the same to her own father Thomas, I realised this is what Meghan does when people are either no longer of use or might be problematic to the bigger Prize.