Sean Paul ft. Tiwa Savage & DJ Spinall -Out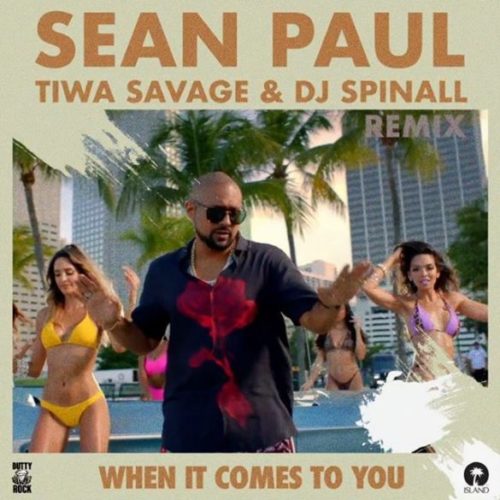 Jamaican Hip-hop record producer and songster, Sean Paul has released a brand new track labeled "When It Comes To You.
Naija News  Understands that the Jamaican born Pop King featured top Nigerian music Diva and female songstress, Tiwa Savage and a well known prolific Disk Jockey, DJ Spinal to dish out the remix to his most anticipated track in which he dubbed "When It Comes To You [Remix].
After the success of his recently released track "Buss A Bubble", the singer decides to thrill his music fans with this new monster-piece definitely worth listening to. Lady Tiwa and Spinall, who has also made their presence felt in the song, proving without effort that they are no mediocrity.
Listen and Enjoy Below!
Lyrics
[Chorus]
When it comes to you, there ain't no satisfaction
Every night with you is harder than the last one
There ain't no, no such thing as enough of your love
No such thing, give me some of your love
No such thing as enough of your love
[Verse 1]
Baby girl, 'cah you got me caught right from beginning
Like a diamond shine glistening
Got me fiendin', I'm trippin' in love
Don't wanna fi fall in like dis a ting, love
But yuh pressurin' my adrenaline
Baby girl, 'cah you done already win
Waan be d kingdom, bring me the meatloaf
Let me in, love
[Pre-Chorus]
Baby girl, 'cause just one time
Girl, it's never enough for me
I need one more night
Girl, it's never enough, never enough
Baby girl, one more dance is never enough for me
One more chance, never enough, never enough
[Chorus]
When it comes to you, there ain't no satisfaction
Every night with you is harder than the last one
There ain't no, no such thing as enough of your love
No such thing give me some of your love
No such thing as enough of your love
When it comes to you
[Verse 2]
You make me and me friend ah fall out
Baby girl, you know I'm going all out
You so hard stepping, you know seh mi rappin'
For you, girl, any minute, any likkle second
Mi waan get d call, waan get d shoutout
Hear me, girl, you know there ain't no doubt
You are my queen, don't treat me like scout
Listen to the words from me mout'
[Pre-Chorus]
Baby girl, 'cause just one time
Girl, it's never enough for me
I need one more night
Girl, it's never enough, never enough
Baby girl, one more dance is never enough for me
One more chance, never enough, never enough
[Chorus]
When it comes to you, there ain't no satisfaction
Every night with you is harder than the last one
There ain't no, no such thing as enough of your love
No such thing give me some of your love
No such thing as enough of your love
When it comes to you
[Bridge]
Everyday mi want it, can't calm
Everyday mi want it, sound di alarm
Everyday mi want it, can't calm
Everyday mi want it
No such thing, no such thing, no such thing
[Chorus]
When it comes to you, there ain't no satisfaction
Every night with you is harder than the last one
There ain't no, no such thing as enough of your love
No such thing give me some of your love
No such thing as enough of your love
When it comes to you
Source: Naija News