Senator Abe's Camp Gives Conditions For Peace In Rivers APC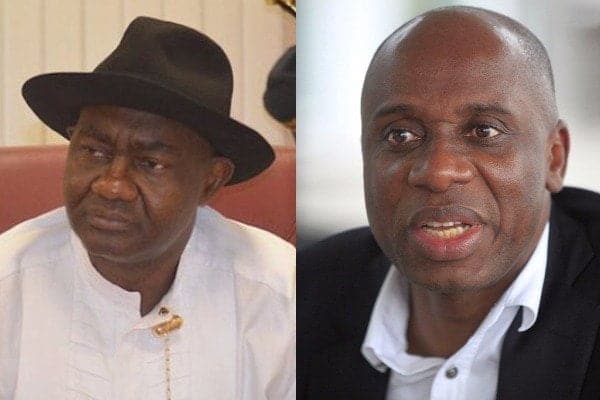 The Senator Magnus Abe-led faction of the All Progressives Congress (APC) in Rivers State has given conditions for peace to return to the party in the state.
The conditions were given by a former Commissioner for Justice in Rivers State, Wogu Boms, in Port Harcourt.
Speaking to newsmen, Boms asked the National Working Committee of the APC to invite both the Rotimi Amaechi and the Magnus Abe groups for a peace talk or implement the judgement of a Port Harcourt High court delivered by justice Chiwendu Worgu.
He stated that the Minister of Transportation, Rotimi Amaechi should be punished for engaging in anti-party activities during the 2019 governorship election.
Wogu Boms stated that the Rivers State APC is in comatose and urgent steps needs to be taken to resurrect the party before 2023.
He said: "It is irresponsible to continue to accuse Governor Nyesom Wike and the Judiciary at all levels as the cause of our political woes when we have not done what we should do as a party in crises.
"No one has respect for any person or group that cannot solve their problems.
"The way out, should the party be unable to meet in a peace meeting to resolve all issues with all stakeholders, is to call for and abide by all the Judgments and Rulings of the State High Court High as affirmed by the Court of Appeal and the Supreme Court which not only voided the exclusion of the aggrieved members from the congresses they paid to obtain forms to participate in, but also made some Orders.
"That is the path of Constitutionalism that is the only viable way out of this needless political situation the party leadership foisted on the party.
"What did the Judgment of Hon Justice Chinwendu Wogu decide as affirmed by the Supreme Court?
"That is what the party should implement and there will be peace, bearing in mind the Constitutional provision that the Judgment of the Supreme Court binds all persons and authorities throughout the country. Senator Magnus Ngei Abe is not the problem."
Source: Naija News